Have you ever felt
fancy, seen, and safe
with a stiff cookie-cutter approach?
Well, that's

you get 100% custom Dolomites proposal & engagement packages,
that feel snugly snug, like a bug in a rug!
The Custom Dolomites proposal & engagement packages Are
All disco
& No Panic!
Stress-free, Low Key
Custom-Made Guarantee!
Custom Dolomites proposal & engagement packages are made with all the love and a high level of care to make sure you can live your freaking dream
A seamless process to find out what dreamy proposal & engagement locations in the Dolomites you're into, so you don't have to make ALL the research yourselves
Avoid tourist traps & explore hidden spots that will make you feel embraced by the world
Fun, Giggle & Joy
Including but not limited to dad jokes, puns, iron knees to ensure some real laughter
A$$ grabbin' and frolicking are more than welcome to make you feel at ease
Freedom to be clumsy, weird and amazeballs to get those "SO YOU" shots without posing
No Problemo!
Your local friend & photographer giving you those real talks & no fluff around locations
Someone just as weird as you, so you can be your true self
Mess-dealing pro to solve any trouble and ensure a smooth, upbeat proposal & engagement day
"From the very first contact; the whole process was seamless and super flexible and suited to what I was looking for.
Ellen's whole brand was about finding out who we are as individuals and as a couple, and making sure it suited our needs."
– Kieren & Jennifer
An Epic proposal in the Dolomites
is like an
easy-peasy lemon squeezy,




Offbeat Adventure

!
Not a difficult difficult lemon difficult
day.
How to get your Custom Dolomites proposal & engagement Packages
in 5 Simple Steps!
1. INQUIRE WITH ME HERE!
I'll be right back and invite you on a discovery call to dream up your big vision
2. GET YOUR CUSTOM
DOLOMITES PROPOSAL & ENGAGEMENT PACKAGES
After the initial call, I'm going to brew up the custom Dolomites proposal & engagement packages that fit your wants & needs.
Pick the perfect custom Dolomites proposal & engagement package, make the deposit and let's go!
3. PLANNING 1:1 STARTS
The hands-on process begins: I'll get to know you better through short questionnaires, emails & especially videocalls!
4. LIVE YOUR DOLOMITES PROPOSAL & ENGAGEMENT DREAM
Come to the Dolomites and enjoy the beauty of nature and the intimate moments
5. ONLINE GALLERY DELIVERY
You receive a preview immediately after the proposal & engagement (1-3 days).
And up to 5 weeks after the day, the full gallery,
with all custom Dolomites proposal & engagement packages.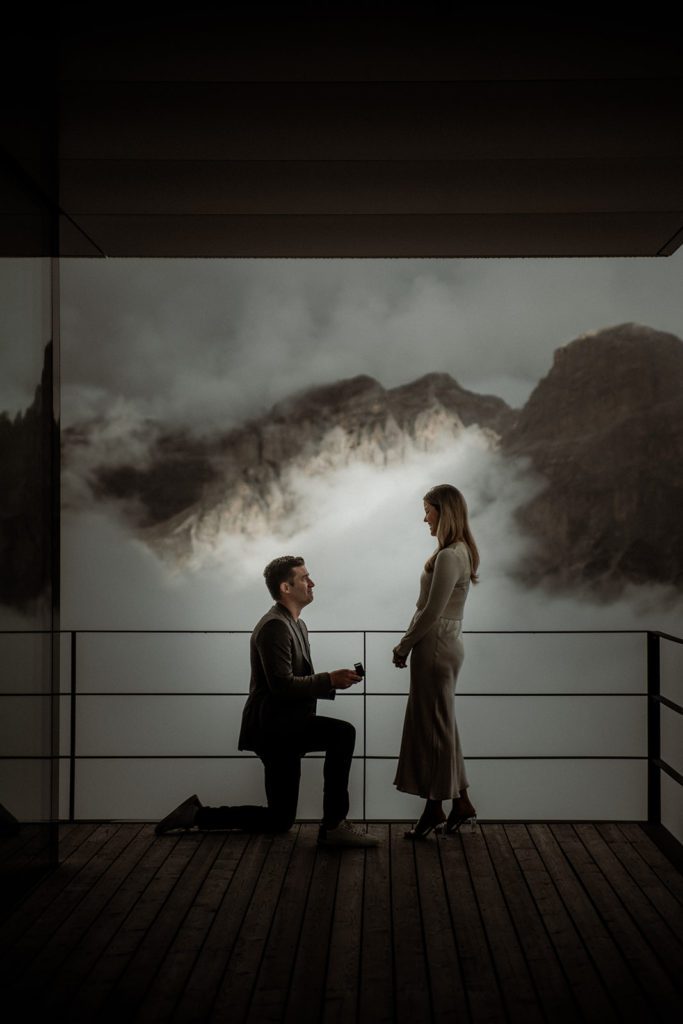 All Custom Dolomites
proposal & engagement Packages
Include
✨ EPIC PHOTOGRAPHS – A cool mix of epic, dreamy & candidly fun photography – you won't miss out on any of your personalities 😜
✨ COMMUNICATION – 1:1 human connection, to build a unique friendship-like relationship. So you can feel free and relaxed to be yourselves on your proposal & engagement day
✨ PLANNING SUPPORT – Tailored planning & decision-making help via email, chat & 1:1 videocalls when you need them and how you need them – so you're not left wondering what the next steps are, and get to decisions easier & faster – here's how my planning support works
✨ CUSTOM PICKED ITINERARIES & ACTIVITIES – based on your wants, interests and personal pace
✨ EXCLUSIVE PLANNING RESOURCES – so you still can explore on your own
✨ LOCAL FRIEND IN THE DOLOMITES – that holds your hand with fitting first-hand advice, tells you about local stories and culture, and makes you feel relaxed all the way through your proposal & engagement
✨ BACKUP DAY(S) – in case of bad weather, inconveniences or just because you want to stay flexible
✨ FROM 1,5h EXPERIENCES TO MULTIPLE DAY PACKAGES – so you have less-stress and have a laid-back proposal & engagement day
The most common price range for a Dolomites proposal & engagement experience is between from €2000 to €3000.
And More Tailored Pizzazz
To add on
✨ MULTIPLE DAYS & MORE HOURS of adventure & together to add variety to locations or simply a slower paced day
✨ EXTRA ACTIVITIES – such as a longer hike, sunset watching, skiing, guided tours
✨ EXCLUSIVE SERVICES & ACTIVITIES – you just get if you work with locals, such a private chef in a privately owned chalet at the end of your day
✨ LOCAL CULTURAL ENRICHMENT – local food tasting, legends, museums and more
✨ PHOTOGRAPHS IN FANTASY GARMENTS – after or on that day, to give your special occasion an even more magical touch
✨ MORE TAILORED IDEAS – to make your day feel even more special and snugly
annnnd – LITERALLY SO MUCH MORE!
Some people want it short and sweet for €2000 and others want a big adventure for up to €9000.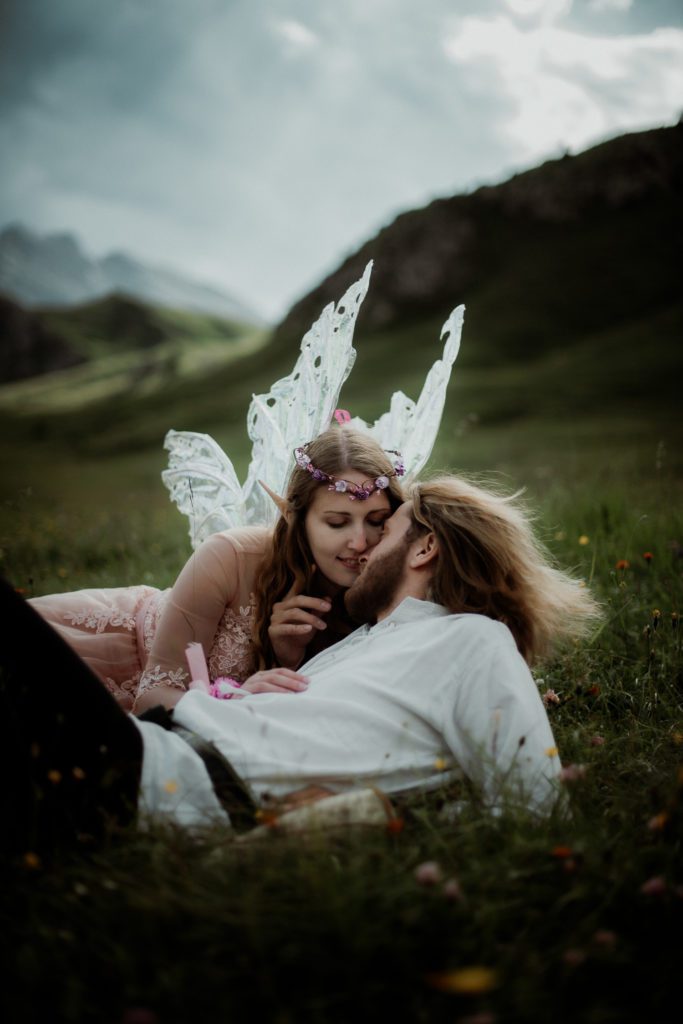 The Custom Dolomites proposal & engagement Packages
Are For The People Who Value:
+ Freedom & Privacy
+ Adventure & Nature
+ Showing Their Personality
+ Tailored, Original Ideas Over The Mainstream
+ Attention & Care To The Details
+ Open & Honest Communication
+ Local Culture & A Bit Of Magic
+ Dad Jokes & A New Italian Friend😜👌🏻
Let's work together!
I'm Ellen – Born and living in the Dolomites as a local proposal & engagement photographer. And there's so much I can't wait to share with you. I want to:
💖 Show you my home & take you to places I love
💖 Share and explain our very local culture to you
💖 Give you time and attention to the details like a friend
"She carefully tailored suggestions based on these conversations."
Ellen is an incredible person and photographer. Ellen was our photographer for my surprise engagement proposal. Not only was Ellen crucial to planning all the components of the photography process, but she helped me plan the engagement in many ways—she helped me find a list of venues that aligned with my vision, she helped strategize the secrecy of the big moment, and she served as a guide for our trip to the Italian Alps.
She took time to get to know both my interests and my Finance's interests. She carefully tailored suggestions based on these conversations and after each meeting, she sent notes about our discussions to ensure that everything was well interpreted.
Ellen was very cognizant about giving us privacy and time to celebrate the engagement, and this was extremely appreciated.
There's so much more to say, but I think this should clear you of any doubts-book, Ellen. 1 million stars.
Javier & Michelle
"Thanks to Ellen, we came up with an excellent plan"
Ellen was absolutely amazing to work with in planning my proposal to my girlfriend! My plans were very tentative when I first contacted Ellen, but she listened to my ideas and used her experience and expertise to give constructive feedback and suggestions regarding the specifics of my proposal. Thanks to her, we came up with an excellent plan and the moment could not have gone more perfectly.
The photos themselves look amazing and go beyond what I could have ever expected! I am so happy we have these beautiful photos that capture such a special moment for us.
I would highly recommend Ellen as a photographer. She was very friendly, professional, and easy to work with.
Eugene & Taeler
"Ellen is also a master of improvisation."
Through pre-discussions via video call (which worked without any problems), we came up with a wonderful plan. Ellen knows many beautiful places in South Tyrol!
Ellen was always full of creative ideas and enthusiasm!
We were approached by a tourist at a lake, asking if we could take a photo of her for a moment. Of course, this was all planned; Ellen showed her unknown talent in acting. A very convincing performance! My girlfriend didn't notice anything at that time. When Ellen took photos of us, she offered to take a few pictures of us as well.
Ellen is also a master of improvisation.
We had selected two possible spots for the proposal beforehand. However, my better half walked ahead like a racehorse, and Ellen had to quickly catch up with us and find a new spot, which turned out to be perfect!
During a subsequent picnic, we got to know each other a bit. Ellen is fully passionate about what she does – you can feel it every minute!
Thank you for the unforgettable day!
We will always remember it!
Kevin & Annika
FREE DOLOMITES PROPOSAL & ENGAGEMENT
PLANNING RESOURCES