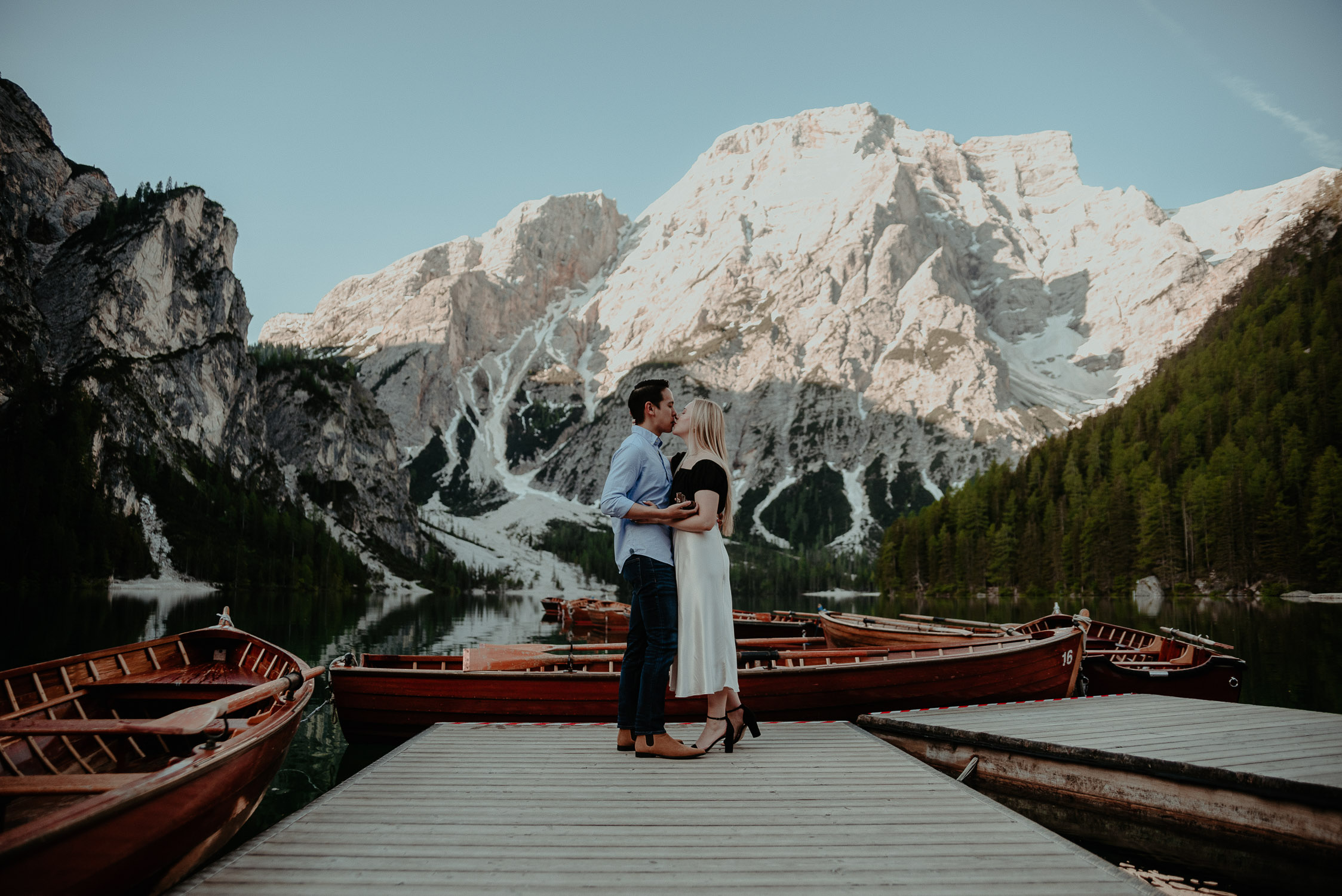 ReadReadRead
We all know the issue, sometimes things just aren't as on the photographs. Sometimes you simply have super high expectations of whatever you see on the internet, and when you see it in real life, it doesn't look as expected. Well, as a local elopement & couple photographer born and living in the Dolomites, I really feel the urge to raise awareness about how certain famous spots in the Dolomites look like in reality.
Why I have photographs couples in these famous locations? Well… Read the last point for the answer!
Locals never do tourists things, with me, you'll blend in
Locals NEVER go to tourist spots when they go mountaineering or exploring. We're searching for peace of mind since we see tourists enough during the seasons. This is reason enough for me to take you where locals go, at times locals go. We know a thing or two about tourists and places to visit.
Overtourism in the Dolomites – between Internet idyll and real-life destruction
I really love the place I was born and I do respect it. I deeply hate to see so many tourists in one spot and it is almost embarrassing to see how many people simply cannot behave, jumping over fences or destroying the surroundings of the location to get that one photograph or run around meadows that are forbidden to step on. Tourists aren't all as respectful and would do literally anything to get that shot too. This is something I don't want you to take home at all because you deserve to see how beautiful our mountains and untouched places can be.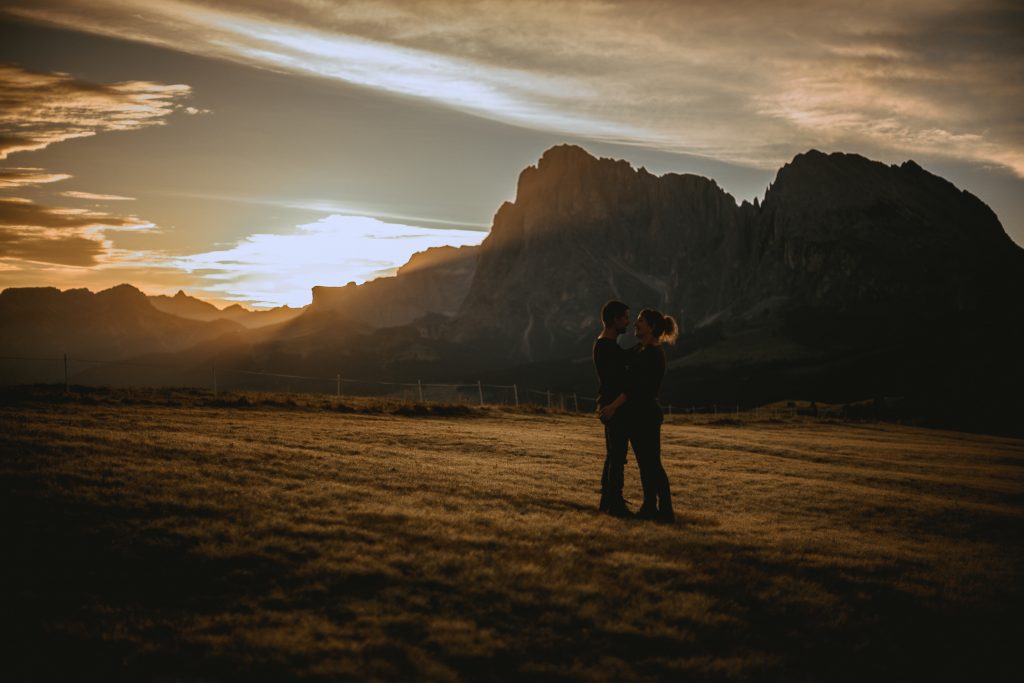 I'm not the photographer who "travels worldwide" – I want to give you a magical elopement or couple session experience in this specific area, the Dolomites
Many photographers around the world would pull out their arms to shoot at Locations like Lago di Braies, Tre Cime di Lavaredo, Seceda, Cadini di Misurina or Alpe di Siusi. But as a local, I avoid those places like the plague. Why? Because to me, it's more important to give my clients the elopement or couple photoshoot experience they deserve to have, instead of building my portfolio around those famous locations in the Dolomites.

Experience disappointment: It's not as romantic as you might think
It's part of the experience to make you see the beauty of the mountains and keep you away from too crowded places. Whilst famous spots look really beautiful in photographs and I can make your photos look like nobody's around, your experience is simply destroyed.
Moreover, if you're running between 7000 people in a wedding dress, there will be enough people shouting "congrats" and "viva gli sposi" ("long live the spouses"), applause, stupid sayings or worse: random peeps taking photos of you. That's not what I want to give you.
You can always go visit these places before or after your shoot or elopement.
Your elopement wedding or couple shoot isn't a Pinterest board or Instagram feed.
Internet photographs are simply so far away from reality… I want you to live your dream, as messy, funny, adventurous or romantic as you want it. Often, the pictures you see on Instagram or Pinterest boards, are from styled shoot – so not real weddings. That's why I barely use Instagram or Pinterest – I'm more a Google Maps person because there, you see how places really look like. Moreover, I really like messy, unpolished people, because I'm just like that too.
I prefer my privacy far over "that location".
Famous locations are expensive and sometimes hard to get to
This is just for every famous location. As we need our beautiful nature to be protected, restrictions have been implemented with the time. For example, at Tre Cime di Lavaredo, you either book your visit and go by bus, or you pay €35 for toll just to arrive at Rifugio Auronzo by car. Just to find the crowds up there… Same goes with Seceda, either you pay €36 to take the cable car, or stay in a simple mountain Hut for €200/p.p. and night to get up early in the morning or stay after the cable car closes – or you take a helicopter, or you walk 3h to get up there.
Alpe di Siusi has reduced times of the day when you can get up with the car, unless you're staying in the hotels up there. And nope, there aren't other ways around it other than the cable car. Even there, you're bound to their closing times.
Lago di Braies is pretty much the same too – in June, July and August you only can visit it by bus which you must book before you go, or at certain times of the day. You only can imagine how freaking crowded it gets there.
What Are The Dolomites Instagram Spots?
There are quite some Instagram hotspots in the Dolomites! Here are the most well-known IG hotspots in the Dolomites:
If you feel like you really need that Famous Dolomites Location…
It's not impossible to get to these spots when fewer people are around – I have some tips for you. Let's have a chat together to see what a workaround could fit you to get to the famous spot of your dreams, and look together at other epic spots if you're open to.
Read this related blog post as well:
PIN IT FOR LATER!