Have you ever felt
fancy, seen, and safe
with a stiff cookie-cutter approach?
Well, that's

you get 100% custom Dolomites elopement packages,
that feel snugly snug, like a bug in a rug!
The Custom Dolomites Elopement Packages Are
All disco
& No Panic!
Stress-free, Low Key
Custom-Made Guarantee!
Custom Dolomites elopement packages are made with all the love and a high level of care to make sure you can live your freaking dream
A seamless process to find out what dreamy elopement locations in the Dolomites you're into, so you don't have to make ALL the research yourselves
Avoid tourist traps & explore hidden spots that will make you feel embraced by the world
Fun, Giggle & Joy
Including but not limited to dad jokes, puns, iron knees to ensure some real laughter
A$$ grabbin' and frolicking are more than welcome to make you feel at ease
Freedom to be clumsy, weird and amazeballs to get those "SO YOU" shots without posing
No Problemo!
Your local friend & photographer giving you those real talks & no fluff around locations
Someone just as weird as you, so you can be your true self
Mess-dealing pro to solve any trouble and ensure a smooth, upbeat elopement day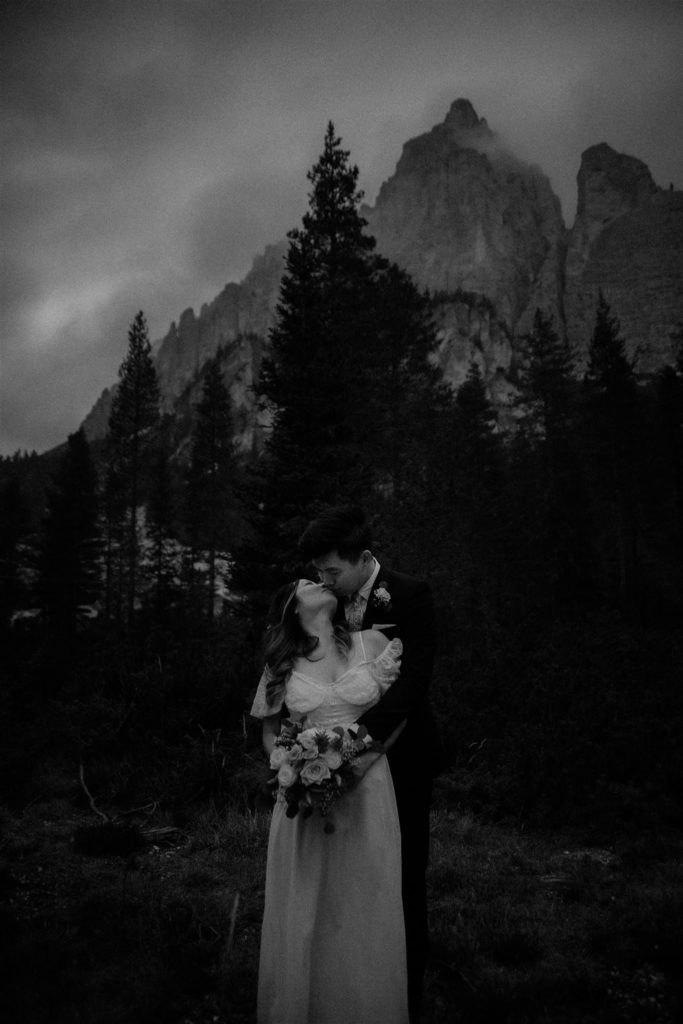 "From the very beginning, we could tell that Ellen prioritised our needs.
As a local to the area, Ellen is very knowledgeable about potential elopement spots, as she's personally scouted hundreds of these herself."
– Justine & Zac
An Epic Elopement in the Dolomites
is like an
easy-peasy lemon squeezy,




Offbeat Adventure

!
Not a difficult difficult lemon difficult
wedding day.
How to get your Custom Dolomites Elopement Packages
in 5 Simple Steps!
1. INQUIRE WITH ME HERE!
I'll be right back and invite you on a discovery call to dream up your big vision
2. GET YOUR CUSTOM
DOLOMITES ELOPEMENT PACKAGES
After the initial call, I'm going to brew up the custom Dolomites elopement packages
that fit your wants & needs.
Pick the perfect custom Dolomites elopement package, make the deposit and let's go!
3. PLANNING 1:1 STARTS
The hands-on process begins: I'll get to know you better through short questionnaires, emails & especially videocalls!
4. LIVE YOUR DOLOMITES ELOPEMENT DREAM
Come to the Dolomites and enjoy the beauty of nature and the intimate moments
5. ONLINE GALLERY DELIVERY
You receive a preview immediately after the wedding (1-3 days).
And up to 5 weeks after the elopement, the full gallery,
with all custom Dolomites elopement packages.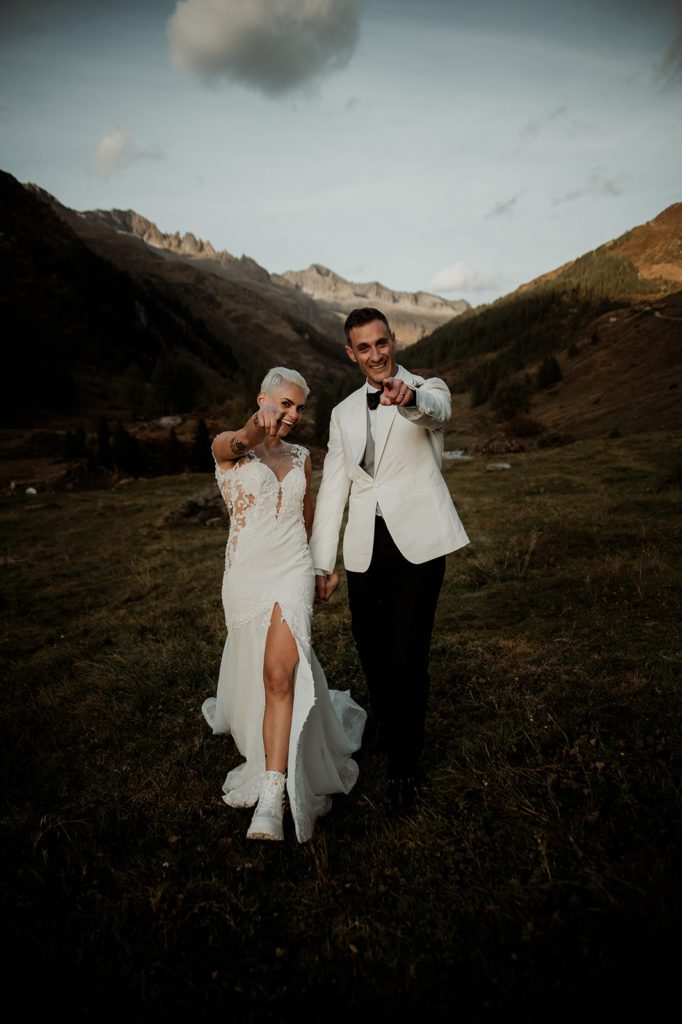 All Custom Dolomites
Elopement Packages
Include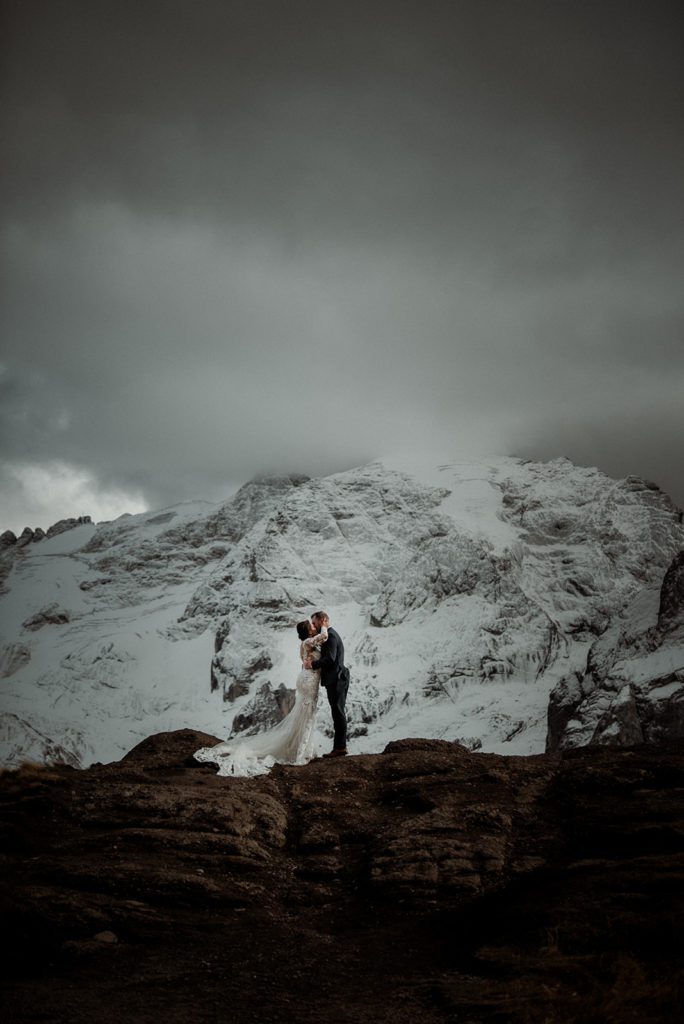 ✨ EPIC PHOTOGRAPHS – A cool mix of epic, dreamy & candidly fun photography – you won't miss out on any of your personalities 😜
✨ COMMUNICATION – 1:1 human connection, to build a unique friendship-like relationship. So you can feel free and relaxed to be yourselves on your elopement day
✨ PLANNING SUPPORT – Tailored planning & decision-making help via email, chat & 1:1 videocalls when you need them and how you need them – so you're not left wondering what the next steps are, and get to decisions easier & faster – here's how my planning support works
✨ CUSTOM PICKED ITINERARIES & ACTIVITIES – based on your wants, interests and personal pace
✨ EXCLUSIVE PLANNING RESOURCES – so you still can explore on your own
✨ LOCAL FRIEND IN THE DOLOMITES – that holds your hand with fitting first-hand advice, tells you about local stories and culture, and makes you feel relaxed all the way through your elopement
✨ BACKUP DAY(S) – in case of bad weather, inconveniences or just because you want to stay flexible
✨ FULL DAY & MULTIPLE DAY PACKAGES – so you have less-stress and have a laid-back elopement day
The most common price range for a Dolomites elopement experience is between €5000 and €7500.
And More Tailored Pizzazz
To add on
✨ MULTIPLE DAYS & MORE HOURS of adventure & together to add variety to locations or simply a slower paced day
✨ EXTRA ACTIVITIES – such as a longer hike, sunset watching, skiing, guided tours
✨ EXCLUSIVE SERVICES & ACTIVITIES – you just get if you work with locals, such a private chef in a privately owned chalet at the end of your day
✨ LOCAL CULTURAL ENRICHMENT – local food tasting, legends, museums and more
✨ PHOTOGRAPHS IN FANTASY GARMENTS – after or on that day, to give your special occasion an even more magical touch
✨ MORE TAILORED IDEAS – to make your day feel even more special and snugly
annnnd – LITERALLY SO MUCH MORE!
Some people want it short and sweet for €5000 and others want to build a multi-day kinda thing for €20,000+.
The Custom Dolomites Elopement Packages
Are For The People Who Value:
+ Freedom & Privacy
+ Adventure & Nature
+ Showing Their Personality
+ Tailored, Original Ideas Over The Mainstream
+ Attention & Care To The Details
+ Open & Honest Communication
+ Local Culture & A Bit Of Magic
+ Dad Jokes & A New Italian Friend😜👌🏻
Let's work together!
I'm Ellen – Born and living in the Dolomites as a local elopement photographer. And there's so much I can't wait to share with you. I want to:
💖 Show you my home & take you to places I love
💖 Share and explain our very local culture to you
💖 Give you time and attention to the details like a friend
"Ellen was there and made it so magical"
Ellen is so much more than a photographer, she goes above and beyond, and you can see how passionate she is about making the day for her booked couples as special as possible. She made us feel extremely comfortable, even though we had never posed for photos before. Her positive energy made her such a joy to be with!
I look back on this day with such fondness, not only because it was a truly beautiful event with my partner, but because Ellen was there and made it so magical. I literally can't imagine having done this without her. What are you waiting for, book her now!!
Justine & Zac
"Half the photos I didn't even realise she took"
Our family and friends are in awe of our day saying "it looks like a fairytale"!
"You can see she's really managed to capture every emotion, it shines through in the photos". These photos will last a lifetime and truly do the day justice as to just how beautiful the settings were; with Ellen's unrivalled knowledge of where would be best in the tourist season (away from crowds).
Half the photos I didn't even realise she took, she blended into our day and our family amazingly. Honestly, can't put a price on the service she offers.
WE WOULD BOOK HER AGAIN AND AGAIN IN A HEARTBEAT.
IF YOU NEED A DOLOMITES ELOPEMENT PHOTOGRAPHER, DON'T BOOK ANYONE ELSE.
Sarah & Chris
"Ellen is silly and genuine, with a keen creative eye"
Ellen helped us get up to speed on the best spots and checked in with us regularly to assist all the way up until the day of the shoot. Ellen is silly and genuine, with a keen creative eye. She definitely gave us a feel for the Italian culture and personality, which is hard when you are in a foreign country and only have shallow and short interactions with most locals. We had a blast and were honored to share our special day with her. The photography was top notch. You can not go wrong booking Ellen to do your photography!
Amanda & Justin
FREE DOLOMITES ELOPEMENT
PLANNING RESOURCES