Weddings don't always have to be super big parties to be meaningful.
Indeed, I believe that in small, alternative weddings the meaning of the celebration can be grasped even better.
We have something for everyone to make your elopement wedding more fun! From the most adventurous activities to the most peaceful experiences. There are no rules for modern, energetic weddings and couples!
Here are some alternative ideas for an alternative wedding, worthy of your love!
A wedding day on skis
Who says you can't ski in your wedding clothing? A ski wedding is just a different wedding. For badass couples who don't care what others think – celebrate at full speed on the slopes of Alta Badia!
Mostly we have huts for all tastes, from the simplest self-service to the hut serving champagne and oysters. In short, free the choice – just have fun!
Getting married in the mountains with alpacas
I think this is the most romantic tip of all time! Alpacas are very nice beings, but also reserved and tame. In Colfosco trekking with alpacas are organized and why not take the opportunity to get married with alpacas on a leash, in a mountain meadow? That would really be a special wedding.
Helicopter ride in the Dolomites
Hell yesss! a helicopter ride on the wedding day allows you to contemplate the Dolomites from above. It gives me goosebumps just thinking about it. Elikos, offers helicopter tours over the Dolomites.
You could also take the opportunity of the helicopter to reach the peaks and get married practically on the top of a mountain. Spectacular, isn't it?
Paragliding flight over Corvara
Much like the helicopter ride, there is the paragliding ride, which allows you to have equally spectacular emotions at a lower price.
Corvara's "Tandem Flights" team will allow you to take a tour that will last about 20 minutes. A good idea would be to take a walk and an intimate and alternative wedding ceremony at high altitude, and then go paragliding. What an epic experience!
Visit the Reinhold Messner museum
For couples who need a dose of culture even on their wedding day. Have you ever thought about getting married in a museum or visiting one on that day? Well, I have something really cool to propose!
The Lumen Museum on Plan De Corones is a mountain museum by Reinhold Messner and is done in a very interesting way.
First, certainly, the scary landscapes that we find at Plan De Corones, where an outdoor wedding ceremony fits 100%.
Secondly, both the restaurant and the museum can be reached with the lift, so even if you have some older guests with you, you don't have to worry – we have every kind of comfort, for every need.
Third, the restaurant we are talking about is a Norbert Niederkofler gourmet restaurant. Having the wedding dinner there wouldn't be bad at all. Apropos to by Norbert Niederkofler…
Eat in a Michelin-starred restaurant in Alta Badia
This is for DOC foodies! In Alta Badia, we have 2 starred restaurants!
La Stüa de Michîl and St. Hubertus Restaurant. Almost tailor-made for those who really want to enjoy their day to the fullest. This last idea for an alternative wedding can actually be combined with any of the experiences I mentioned above, since this could be the most beautiful of all conclusions.
Sledding with Husky Dogs in Selva di Val Gardena and on the Passo delle Erbe
Adventurous and cute, taking a sledge ride with the huskies is a beautiful experience that is somewhat reminiscent of the Nordic countries.
Why not get married in the midst of the Husky of the Dolomites?
You get there very easily, and you don't need any experience or physical condition for that. Here are the Husky Sled Dogs!
Offroad Quad Tour in Val Gardena
A quad tour in Val Gardena is for motor enthusiasts and adventurous people!
The quad tours are available from one hour to half a day and are made by an experienced guide. The tours are always tailored to your ability and designed individually!
In winter there is even a night tour with dinner in the alpine huts. If that wouldn't be an alternative wedding?!
Zip Line in San Vigilio di Marebbe or Fly Lane in Campo Tures
Zip Lines are not for the faint of heart! Flying on a rope in the middle of nature is a lot of fun and could be a cool activity for an action wedding!
The Zip Line in San Vigilio is at dizzying heights, while the Fly Lane in Campo Tures goes more through the forest. Take a look at them and choose what suits you!
E-bike tour or ride with the snowcat to the Fanes Natural Park
From San Vigilio, you can also rent an e-bike and ride comfortably and quickly to the Fanes Alm!
In winter, on the other hand, you can let yourself be driven with the snowcat of the Fanes Hut and enjoy the Fanes Natural Park in white.
The Fanes Hut also offers overnight sleeping possibilities for hut lovers, both in summer and in winter
With off-road taxi to Malga Federa and Croda da Lago
An off-road taxi is a right choice for you if you want to forego several hours of hiking but still want to reach breathtaking mountain landscapes.
The Jeep Service Cortina brings you easily to the alpine pastures and huts of Cortina and the surrounding area!
Mountain breakfast at sunrise or picnic at sunset
The early bird catches the worm! There are special rewards for climbers and hikers early in the morning! There are many guided tours with breakfast at sunrise!
Popular mountains for this are:
Cima da Cir, for climbers (from Colfosco or Selva di Val Gardena)
Sasso Putia on Passo delle Erbe, for expert hikers & climbers (Val Badia)
Picco di Vallandro in Valle di Braies
Corno di Fana in Dobiacco
Piz da Peres in Valdaora
For those who like it more comfortable, there are also guided tours where the lifts are open in the early morning:
Monte Elmo nelle Dolomiti di Sesto
Plan de Corones
Corno del Renon
Monte Cavallo
Naturno
For a breathtaking sunset, I can recommend the Sass Stria, for example – the ascent is pretty easy and the view is beautiful.
You can also read about the picnic-tricks here!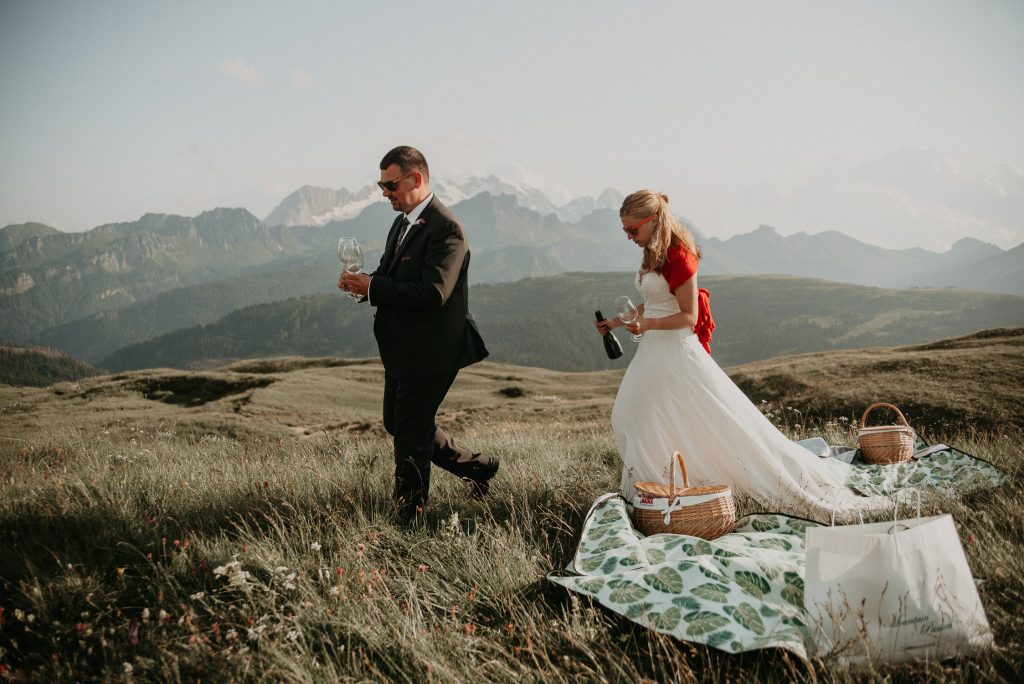 Ballooning in Dobbiaco
You can fly with hot air balloons in Dobbiaco all year round! Then why not on the wedding day? For about an hour, you can look at the world romantically from above in Dobbiaco!
Did you like the suggestions?
Are you looking for an intimate and alternative wedding, worthy of your love?
If you liked my advice, I will be happy to give you even more on this topic, and you still need a photographer? Do not hesitate to contact me for a non-binding video call and discover all the possibilities of organizing an alternative wedding.
For a unique experience, all around you!
How To Plan A Wedding With No Guests
PIN IT FOR LATER!