Getting married in the mountains of South Tyrol can be so romantic! However, there are a few things to keep in mind.
You don't want your elopement wedding in the Dolomites to be a flop.
The preparations from abroad can be overwhelming and stressful, especially if you don't know the area very well. That's why it is important to rely on the locals.
Here I give you a small overview of everything that is possible and what you need in order to get married in Italy! Let's go! 😀
"I organized everything for my wedding! Photographer, hotel, flowers … all that's missing is a partner "
And because we're about to say that there must be at least two …
Did you know? It can be just the two of you! 😀
So, well – you definitely need two witnesses man when you get married. BUT!
These do not necessarily have to be acquaintances, and they can also be, for example, hotel employees of where you are staying or registry office employees. You just have to ask. Cool right?
So you are not obliged to tell anyone at home about your wedding if you don't want to. You are doing it for yourself and not for anyone else! Here are some tips on how to get married with no guests!
And also: After you've got the paperwork behind you, you can celebrate exactly where you want and do exactly what you love to do! It doesn't have to be traditional. Have you ever thought about skiing or hiking at your weddings? There are really only limits in the mind – and a few things that the law stipulates. So on to the next Point!
What documents do you need to get married in Italy?
The Dolomites are partly in Italy and South Tyrol is also Italy.
Depending a bit if you're coming from European Shengen countries or from the USA, you will probably need more paperwork. But let's see what you need to get married abroad in order to have an overview of the legal requirements to elope in Italy.
Valid identity card / passport with which must be valid for at least 6 months.

International birth certificate. You can get this at the registration office of your place of birth.

International marriage certificate. You can get this at the registry office in your place of residence, just ask.

If widowed (I hope not): the death certificate

If divorced: a certificate of divorce

Atto Notorio or Dichiarazione Giurata
There will be a few more steps in between – but it is completely sufficient to give you an overview of what is being asked. I am sure the officials can help you. Otherwise, I would recommend you hire a local wedding planner.
Here are the Legal Requirements To Get Married From:
If the whole procedure is just too time-consuming for you and you want to enjoy the day completely unbureaucratically for yourself, there is an alternative way for you to get married for two!
Civil Ceremony or Symbolic Wedding?
In the previous point, I just assumed that you would like to have a civil wedding ceremony and therefore to sign all wedding papers abroad.
Can you have an Outdoor Civil wedding ceremony, anywhere in Italy?
⚠ Normally it's not possible to sign a legally valid document outside the municipality structure, except for places selected by the municipality itself. ⚠ BUT!! Fortunately, we have a celebrant who is authorized to perform civil ceremonies anywhere in Italy! So you can get married and sign the documents in the middle of a mountain meadow! Which is magnificent! 😄
You can contact Angela of Bespoke Weddings Italy, she will explain you more about civil ceremonies wherever you want!
If you don't want to sign any kind of document on your wedding day, I would definitely recommend a symbolic wedding. That's faster and easier! If it is also unimportant to you where you sign the wedding papers, then go for it.
So you can sign the papers at home before or after the free wedding – you can celebrate your wedding for two in the mountains just as you wish! *HEEEELLL YASS*
Symbolic Ceremony: Which type of Symbolic wedding is the right one for you?
Symbolic weddings are not all the same. Let's briefly look at 4 types of them.
The mountain hut – simple, rustic and unconventional
The castle – very romantic, with a cultural touch – there are so many castles here in South Tyrol!
The museum – has a modern flair mixed with pure mountain history
The mountain meadow / in the forest – close to nature, alternative, relaxing
In my opinion, symbolic weddings are best when the guests are few or even none. These do not have to be particularly adorned and rich in detail. You can also keep it very simple, without a lot of frills, which you often know from Pinterest. Please don't put any pressure on yourself – it doesn't have to be super aesthetic if that doesn't suit your personality! Some of these pictures were also taken from "Styled Shoots" and not at real weddings.
If you don't know exactly what suits you, I have a few inspirations for you – let's go!
What is the best time of year to get married in the Dolomites?
There is no precise rule here, we are all so different! But I can definitely give you a few tips to avoid the worst times.
First: Just think about which landscapes you like the most, and in which colours. 😉 Are there many mountains in this landscape? Are there meadows or rather rocks? Is there snow or many trees in this landscape? What would be perfect for you guys?
Second: Which temperatures are you very uncomfortable with and how much risk of bad weather are you in taking?
These are a few questions that you should ask yourself before you make a decision. For more detailed tips when and where it is better to get married, get's here: When to get married in the Dolomites
When is it a good time to Elope in the Dolomites?
Low season: At the beginning or end of the tourist season practically. Translated into English: mid to late June and early to late September. In winter then beginning to mid-December and late February to late March.
Out of season: mid-April to mid-June or also mid-September to late November are perfect to elope in the Dolomites.
When is it a bad time to Elope in the dolomites?
Peak Season – When the winter or summer season is in full swing. This means from mid-July to the end of August. In winter it is over the Christmas and Carnival holidays.
In summer it is much worse to move anywhere and to get to beautiful places because everyone is hiking in places with similar destinations.
So it makes sense to generally decide against famous locations such as Seceda or the Lago di Braies (aka Pragser Wildsee). As beautiful as these places are. You have no togetherness and no peace. People around you can be very stressful and sometimes intrusive.
There are enough breathtaking places where you can get married by yourselves as well as undisturbed and unobserved. I know a thing or two about them as a local photographer! We can chat about this!
In winter, on the other hand, tourists tend to be scattered on the slopes and do not have a target location but move around much more. However, the huts can get very full and it is incredibly difficult to find a place where you are relatively undisturbed.
Read The Guide About Winter Weddings Here:
My insider tips to you
There are huts and beautiful hotels that are also open out of season – when there is less stress, you can enjoy more of the hotel and hut. The Col-Pradat hut, for example, opens up, especially for weddings, and you have the whole dang thing completely free for you! The same applies to Chalet Pia and Chalet Rönn! All of them offer sleeping rooms and private chefs are also available! The Ebner family will spoil you EXCLUSIVELY to the bone, I can promise you! 😉
Fun activities to do on your Elopement Day in the Dolomites!
The Dolomites are so much more than Lago di Braies, Seceda, Tre Cime di Lavaredo and Alpe di Siusi!
What about going on an alpaca trekking or on a guided quad tour in your wedding attires?
Well, I know a thing or two about how to make your wedding day even more unusual! Read these ideas to make your elopement wedding even more special!
Getting married in the mountains: What are the most beautiful locations To Elope in the Dolomites?
There are really countless beautiful areas to elope in the Dolomites and in South Tyrol.
Since there are so many places to get married (AND MANY OF THE ONES YOU READ ABOUT ON THE NET ARE TOURIST TRAPS), my clients get totally tailored ones, once they book me – these are what I call VIP elopement locations. Discover what the experience of working with me looks like and why you benefit so much more from it!
Speaking of beautiful places to Elope in the Dolomites… This might interest you too:
Of course, it always depends on what you are looking for and what you particularly like.
You don't have to have the answer right away. Rather, think about whether and how long you want to hike. Are these places also accessible to your guests?
Think about what kind of food and experience you want to take with you – rustic hut and simple food or more modern hut and gourmet food or something in between?
Or are you really into picnics? Everything can really be done – don't feel obliged to follow the traditions. Just give a decent shit on rules if you don't like them.
If you've ever been to the Dolomites …
Is there a special place for you guys? W were you there as a small child? Emotions and memories are often very helpful when choosing a wedding location. Small places can become so special.
This could help to sort your thoughts. 😉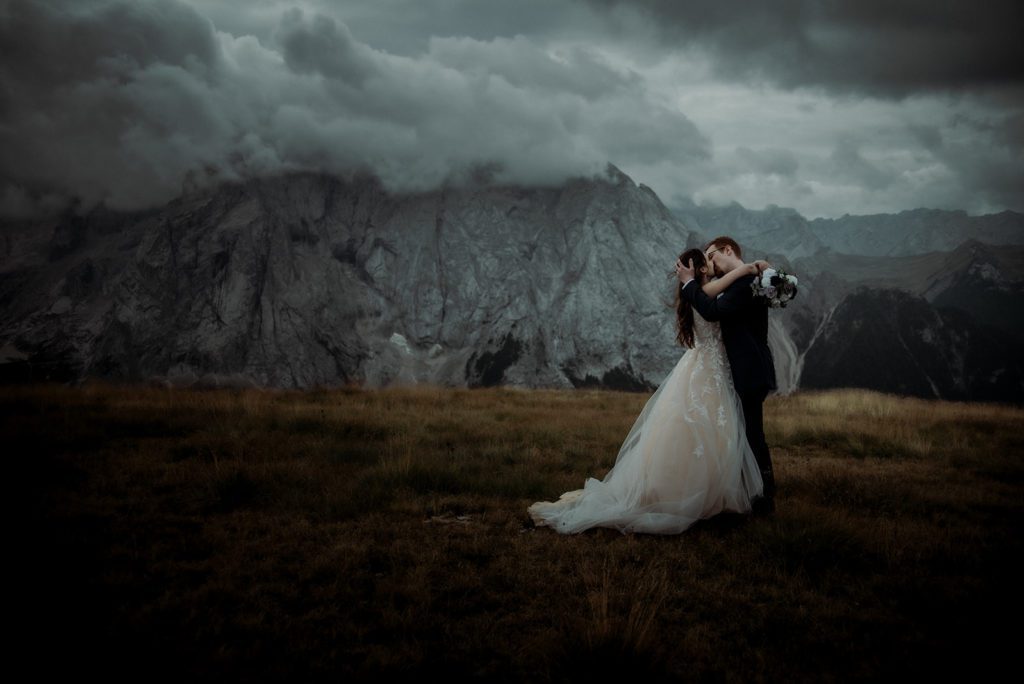 Arrival: How do you get to The Dolomites?
Now you know how and where to get married, here in the mountains.
But how do you actually get to South Tyrol? If you live further away, a long drive may not be an option. Driving is relatively expensive, especially in Italy (see motorway costs and fuel $$).
It can also quickly become exhausting by train, as you have to change trains a lot and at some point, the train roads aren't exactly endless here in the mountains. The journey can be very long. Although the train, along with Flixbus, are probably the cheapest option to travel to and in Italy.
By Plane
Let's take a look at the nearest airport to get to South Tyrol:
Bolzano is very close to the Dolomites and you land practically in the heart of South Tyrol. However, he has very limited flight options. It had to be mentioned, but it can almost be ruled out as a possibility.
Innsbruck is much bigger and offers significantly more travel opportunities. It can be relatively expensive, but Innsbruck is perhaps the best way to get to South Tyrol.
From Innsbruck, you can make good use of the South Tyrolean and Italian railways. You can get to San Candido or in the other direction to Merano. It's pretty well connected.
Treviso and Venice are similar in size to Innsbruck, but the journey to South Tyrol can be very difficult, especially in the winter months. It depends on where you will get married or where you will be staying. For example, Treviso and Venice are unfavourable if you want to stay overnight in the direction of Merano.
See also below the exact differences between summer and winter.
Verona is a little further away, but a fairly large airport with many interconnected airports. I listed it as the last as I would recommend it as the last one. Even if you can get to South Tyrol and the Dolomites fairly well from Verona, it is a long journey overall.
Munich is a large airport and has a lot of international flights. It might sound strange to fly into Germany to get to the Dolomites, but it's still closer than Milano Malpensa. Interesting, huh? 😉 When we locals go on vacation, we almost always fly from Munich.
Milano Malpensa is about 5 hours of driving away from the Italian Dolomites and South Tyrol. But can be convenient to fly to if you're arriving from America or Asia, as it has the most international and transatlantic flights in northern Italy. If you need flexibility afterwards you can rent a car. Otherwise, you can reach the cities by train / Flixbus! See the options below!
In Winter by plane to The Dolomites
One would think that from Innsbruck you can come across more snow (that's also true), but the mountain passes that you have to cross to get from Treviso and Venice to Corvara or San Casiano are not exactly that nice! Unfortunately, they can often be closed because of snow or the risk of avalanches.
Unfortunately, it is not common for rental vehicles to be fitted with winter tires at airports (also in Verona, by the way)! So one should be careful as this can be seriously dangerous.
What you save in money you almost have to pay for security.
The connections from Treviso and Venice aren't the best in winter. You should be a bit more flexible, although there is the "Cortina Express" coaches (see link below), which can take you to different places at any time of the year.
Otherwise, you can book a Transfer (Taxi) as the best option. But of course, it's a bit more expensive
Fly to South Tyrol in Summer
In the summer months, however, I find Treviso and Venice a great solution!
You save a little money and you get up into the mountains relatively easily. However, if you arrive in the high season (August for example), it is practical to be super patient. The roads are pretty busy in summer. OR it is best to arrive early in the morning or in the evening.
By Train
With the Italian railways (Frecciarossa and Italo) you can reach South Tyrol in a very short time and at a very good price.
Here are important hubs in South Tyrol:
Bolzano

Merano

Ponte Gardena

Brunico

San Lorenzo di Sebato

Dobbiaco

San Candido
By Bus
The bus will be pretty much the last solution, let's put it that way. When you get off the train, you need someone to take you to your shelter. Of course, the long-distance bus also comes to us.
Flixbus: which comes to Bolzano and Bressanone
Cortina Express: which comes to Alta Badia and Val Pusteria
Sad transport : This is our local transport, mainly bus, but also regional railways and some cable cars (the one that goes up to Renon/Ritten, for example)
Best wedding planner in South Tyrol and the Dolomites
Getting married somewhere where you are not at home can be really challenging. It can happen that you are completely overwhelmed and that you are afraid of doing something wrong. Fortunately, there are enough wedding planners in the Dolomites and South Tyrol who can help you answer all your questions.
Especially if you've never been here around, it can be really helpful to have an anchor. Here are a few contacts I enjoy working with:
Jlenia Costner | Pamela Pizzardo | Perfect Plans
Wedding photography in the Dolomites and South Tyrol
If a wedding planner isn't something for you upfront, but you're sure you want great photos, then you've come to the right place. As a local wedding and elopement photographer, I am happy to help you, sort your thoughts and give you some tips for your epic wedding.
Especially when it should be unbureaucratic, small and lovely. And who knows … Maybe also secret? 😉
The best thing you can do is write to me for a video chat and tell me something about you. Without any commitment and of course free! : D
Only 5 minutes are missing! Just fill out the form – and I'll look forward to seeing you! <3
I wish you all the best,
Ellen!
Pin it for later!