⚠WARNING: This might be the most bubble-bursting blog post you'll read about elopement locations in the Dolomites.
→ I'm Ellen, a local elopement photographer in the Dolomites, born and living in Colfosco.
I make a living with Elopements and Secret Proposals in the Dolomites. And still, I'm here to deconstruct, be savagely direct, and show you some hard truths behind those too-picture-perfect and romantic elopement locations in the Dolomites you've been hearing about, all over the net. BANG! 🤯💥

Lago Di Braies Elopement | Seceda Elopement | Cadini di Misurina Elopement – What Location Is Best To Elope In The Dolomites?
"Lago di Braies elopement: The most romantic place to elope in the Dolomites"
Yes, Lago di Braies is one of the most impressive places in the Dolomites, and that's why so many people want to visit it. It's comparable to the Statue of Liberty in New York, the Marina Bay Sands in Singapore, or the Horseshoe Bend Antelope Canyon in Arizona.
While a Lago di Braies elopement might sound romantic, it can be awkwardly touristy.
"Seceda elopement: A unique place to elope in the Dolomites"
Yes, Seceda itself is unique! You can recognize it from afar – but so many couples want to have a Seceda elopement. And it happened before to encounter other couples with the same idea up there. Nice. Not so unique anymore.
"Cadini di Misurina elopement: The most epic location in the Dolomites to elope"
Yes, Cadini di Misurina is literally epic, the stunning 360° views of the Dolomites all around are breathtaking.
But so many other people took THAT shot at the end of the trail. So many photographers and couples and wedding planners have that shot already. Beautiful. Stunning. And seen 100 times.
What you see is the amazeballs photographs, but what you don't see, is that you have to stand in line for the pictures, even at 6:30 in the morning. And rush to get your photos taken, so that the others can take theirs (which will look all the same obviously). You're going to feel pressured and uneasy.
Other "Best Elopement Locations In The Dolomites" you might heard of:
Val Di Funes

Alpe Di Siusi

Baita G. Segatini

Passo Giau
I bet you heard about ALL these names in so many Dolomites Elopement guides or blog posts with beautifully taken, dramatic photographs of a Cadini di Misurina elopement, Lago di Braies elopement or Seceda elopement, didn't you?
I bet you have seen these in other non-elopement guides too. Not only that, but you've probably seen these locations and names all over the internet, all over Instagram, Tiktok, Pinterest.
Haven't you?! Guilty? Ok.
Houston, We Have A Problem! 🚨
So many bloggers, influencers and wanderers write about those places. Of course, because these are the Tourist Spots and Traps of the Dolomites.
But this blog post is written from the point of view of a REAL LOCAL elopement photographer in the Dolomites. Living here, I cover the Dolomites as the only area for elopements, to make sure you can 100% take advantage of my local expertise.
"My mission is to save you from p0rn tourism."
Moreover, I want to protect our mountains and heritage. In order to give you the real feel of the Dolomites, instead of those quite destructive Tourist Hotspots. The sad part of this all is that I'm not even being overdramatic, as the local (and non-local) newspapers, newscasts and studies have reported about these locations being overcrowded:

(btw they speak Ladin in the video – it's our mother language that's spoken around the Sella Group)
All these locations have become so famous through Instagram, social media and the net in general. And they will continue gaining more and more fame, as all the people who get there will continue geotagging, blogging and posting about these places.
I get that you really want to see the iconic places. That's probably why you fell in love with our beauties over here. But don't you want to see them during other days of your stay?
You know what? They're beautiful, but they don't have the charm of the mountains anymore, as too many tourists are visiting those locations. That way, they're not suitable for elopement ceremonies in the first place. These places completely lack of
Privacy
Calmness
Romance
What you can find in these places tho is:
Cliché (PLENTY)
Imagine the most famous places where you live, or nearby… Would you EVER take your friends from Italy there to get married or engaged? How would you feel about letting them step in the worst tourist traps, just because they think those spots are romantic?
Imagine you get to the epic Cadini di Misurina elopement spot to find out you have to stand in a queue to take "THAT" shot amongst the other tourists. Is it romantic? Is it special? Is it unique to you to get married in a place where so many people have already done so?
Well, that's SO cliché in my opinion.
Crowds
Of course, not every location is busy in each season or each time of the day. But you're likely to find a lot of people around these famous places. C'mon, you're not the only one who had the idea of a Lago di Braies elopement, and fell into the tourist trap! *YAY*
Disillusion
because yes, these places are so majestic, BUT – the reality often looks just different from "THE SHOT". Lemme ask you: "Are you there just for the pictures, or are you there to elope in the beauty of the Dolomites and enjoy those dramatic landscapes?"
Because: JUST THE PHOTOGRAPHS are wonderful – I can totally assure you some epic shots if you want a Seceda elopement. But boy, it's not only about that. It's about all the experience you have around the spots. And they're more than often completely unromantic and disillusive.
Fences
The more crowded places get, the more d!ckheads go ruin the landscapes, tap into meadows they shouldn't be tapping, because they want a specific photograph, or because they have to be cooler than all the others. So, locals start building fences around these locations, to keep people on the trails and protect the landscapes.
Unsustainability
More people means more wear and tear for the landscapes and more resources for visitors. Such as more parking lots, more public transport, more "lost" waste and more of everything that destroys landscapes and leaves a bad impact on locations. The mountains are places to dream and be far away from the chaos. But the more people go to one of those locations, the less these spots can be truly grasped as idyllic places to enjoy peace of mind and let the dreams fly.
The Best Elopement Locations In The Dolomites Might Not Really Be "The Best"
For You
What does "BEST" even mean? To ask what the best elopement locations in the Dolomites are is a bit like asking what the best cars in the world are.
We all have our favorite brands and models, and many of us will think of a Bugatti, Ferrari, Porsche. But all these cars are expensive, fast and… well… famous?
The real question is: "What are they best for?" Speed? Engine? Status? 😉 Now I want to challenge you: Will the same cars still be best for a road trip with 2 kids?
At that point, "BEST" will take on a completely different meaning, and you'll think of a different car. That might be a Hyundai Tucson, because it's spacious, affordable and reliable.
The real question is: The best elopement locations in the Dolomites for what, and for whom?
In most online resources, "the best" means: "the most known". The most famous elopement locations in the Dolomites.
They might be best just for the pictures, the best for building a portfolio (of course photographers want the most epic shots), the best for status, or for bragging with your friends and family about your elopement in one of the best locations to elope in the Dolomites. But are you searching for that?
Or do you want:
A Place That You Can Make Special For Yourselves
:
that the mainstream doesn't even get to see, and you didn't even know existed.
Non-Cliché Places & Unique Experiences:
that are researched and suggested FOR YOU, and not a cookie-cutter kinda thing that serve the mainstream.
To Discover About Our Culture:
because you LOVE to discover cute little stories that you can't find on Google, legends, traditions, and what makes our places remarkable.
"So, what is your "Hyundai Tucson" of the locations to elope in the Dolomites? 😜"
You're Always Going To See The Best Shots Online
Of course; to show the best places to elope in the Dolomites, everyone wants to actually show the best shots too! They clearly become iconic, consequently, the mainstream wants that exact photograph.
Now, imagine 2000-7000 people DAILY that want to take that exact shot.
Alright, if you can't really imagine so many people, here you have an idea of how a place looks in real life during busy season:
Lago di Braies
Tre Cime Di Lavaredo
Lago di Sorapis
Lago di Carezza
"I'll be honest and tell you that a Seceda elopement or a Lago di Braies elopement in July are definitely NOT good ideas."
⚠ HEADS UP ON DIY DOLOMITES ELOPEMENT LOCATIONS SEARCH ⚠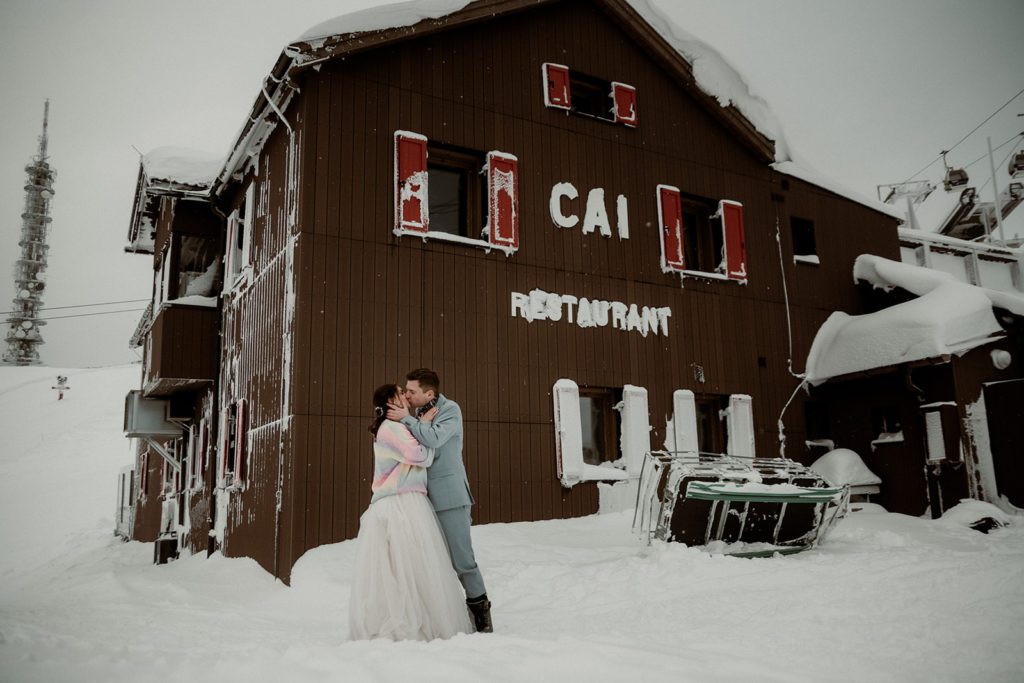 The Most Easy-To-Reach Places, Are Also The Busiest – Even If They're Not Super Famous
This came unexpectedly, huh? 😉
Guess what, Seceda, Lago di Braies, Cadini di Misurina are quite easy to reach – so perfect for an elopement. And there are other places, that aren't even that famous, but are super easy to reach… That way, if you get there at the wrong time, they can be busy too.
It's crucial to know what places these are. Watch this video to get one of the craziest examples of non-famous locations during the busy season!
So if you're going to places that aren't that well known, you still can make dopey tourists' mistakes by visiting them at the wrong time.
Not Every Elopement Location In The Dolomites Is Reachable Each Period Of The Year
A common mistake, that many couples who aren't familiar with the climate in the Dolomites do, is not keeping in mind the seasons and climate in the Dolomites.
Some locations are hard or not possible to reach during certain times of the year.
Others simply don't look good or lack of possibility to take great pictures. For example, some lakes disappear at the end of summer, other places are really hard to photograph in winter.
While you can always find a lovely location to elope in the Dolomites, you might need some more support and suggestions to make a good choice regarding the time of the year and the locations you want to visit.
Some Locations Require Specific Equipment, Good Health, Or Simply The Right Timing
You can definitely go research for elopement locations in the Dolomites in the net, and you'll find a lot of advice. But you never know if that advice actually fits your level of expertise or health to get there. Easy or difficult to get to can vary between people. And at times you might be better prepared because of the road or location conditions no one tells you about.
Sometimes you need less or more time to get to your perfect spot, depending on your pace and also your expectations. It's important to have someone with you, that can support you with tailored advice on this. It's not the same for everyone or same for every time of the year.
I bet you don't want to end your elopement in the Dolomites with a helicopter ride … OF THE MOUNTAIN RESCUE. 🚁💉⛑
Do you want to remember how connected to nature you feel during your elopement in the Dolomites,
or do you want to feel awkward because 4000 other people had your identical idea?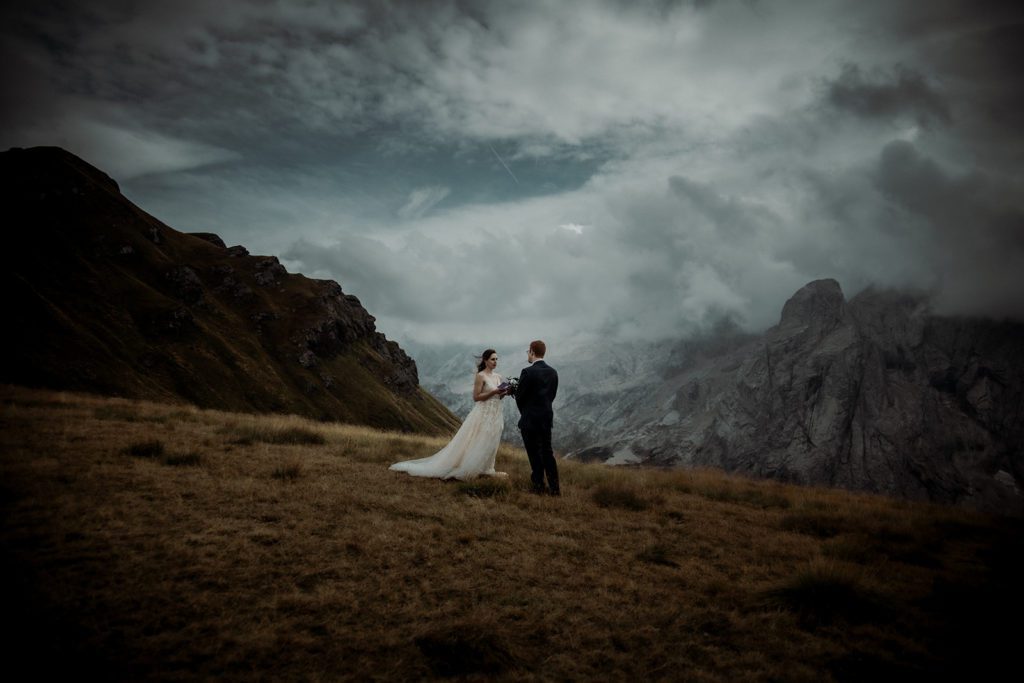 Here are my tips as a local Dolomites elopement photographer, for you to find
your
best elopement locations in the Dolomites:
1. Be Conscious: Work With Locals Who Want To Take Care Of You & The Territory
It's easy to find vendors all over the world, that would rip off their arms to work in the Dolomites and build their portfolio or travelling dreams (which I get, man – it's awesome here!), and if you're searching for economic options, they also might be the best for you.
Locals are very picky and want to completely avoid crowds if possible. I won't tell you that a Lago di Braies elopement or a Seceda elopement is the total dream, and they're my favourite locations to elope in the Dolomites. Instead, I'm the kind of person who will inform you with an open heart, about how many people you can find what day of the year.
And if you really want those famous places, I'm going to find a workaround to assure you the best possible experience for those kinds of famous locations to elope in the Dolomites.
2. Be Part Of The Solution, Not Part Of The Problem
Many people just want to be influencers, see THE spots to take the pictures, and then go back. Many just pass through the Dolomites without staying here, which causes a lot of traffic and doesn't really help a sustainable tourism in general.
That's what I call p0rn tourism, 'cause these kinds of people don't really bring a sense for nature and don't grasp the beauty of our mountains. Often, they don't respect boundaries and cross closed territories to take "the perfect shot" or jump into lakes they shouldn't.
This brings destruction, and that's not what we want for our beautiful places.
👉🏻 Chose different options, and do not geotag locations. We don't need to be influencers; and if we have to, we want to be a good example of influencers by not being too specific about locations.
That's why you haven't found any other "best elopement locations in the Dolomites" in this blog post.
3. Show Your Personality: Frolic With The Sidestream
Tell me what kind of places you love, and I'll be imagineering with you.
As a local elopement photographer, I know what places are suitable for good pictures AND a fantastic experience. In fact, I have more than 260+ stunning locations to elope in the Dolomites under my radar. So when you describe your perfect location to me, I very likely have an option in my head already.
Excellent stuff, isn't it?
So you don't have to search for yourself, and you get tailored advice 1:1, based on your vision!
Contact me to Get The Real Best Locations To Elope In The Dolomites – The ones tailored to you
Tell me about your ideas, visions and concerns. I'll be glad to be your elopement photographer in the Dolomites, and gnome friend, in order for you to get the best one-of-a-kind elopement experience in the Dolomites.
PS.: You might haven't noticed, but the elopement locations in the Dolomites I mentioned in this blog post are really 10 – count them 😉 and also count how frequently you can find them somewhere else on the net too. 😜 Let me know!