Because
walking UP a mountain meadow

simply

feels "righter"

than walking down the aisle

You don't want to impress anybody.
You want to be impressed instead.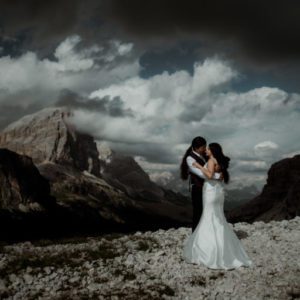 This experience is a
spicy cocktail of emotions

.

Imagine an elopement to be made out of two opposite poles!
One with exciting feels and another with peaceful feels. These simply attract each other and create the magic.
As
exciting

as…
That sizzling anticipation when you take that flight to Italy and set your own freaking boundaries
Waking up in a new place and knowing something huge's awaiting you
Being spontaneous and do whatever you want on your wedding day
Walking and rolling bare feet in the grass
Getting caught by rain and not caring, because hell yes! There's no more epic feeling than kissing under the rain.
Getting that dress dirty, walking in the mud, wearing a windstopper and a beanie with your wedding dress and still looking like an awesome badass anyway.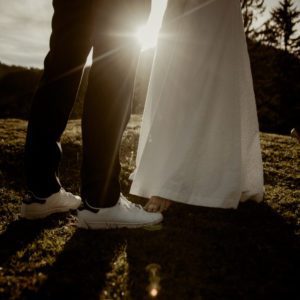 As
Chill

As…
Those cosy moments you want to last forever and ever like hugging in the perfumed trees hearing birds around you or snuggle whilst drowning in the grass
That deep breath you take when embraced from the huge mountains and everything's in the right place at the right moment
Putting your feet in the mountain lake when you arrive after the hike
Having a piece of chocolate to gas you up whilst walking
Popping that prosecco bottle just

for

the two of you and enjoying that tipsy Chilly Willy you for a while
Drinking that local beer and having awesome Italian food with a view or go spontaneously to a gelateria & eat ice cream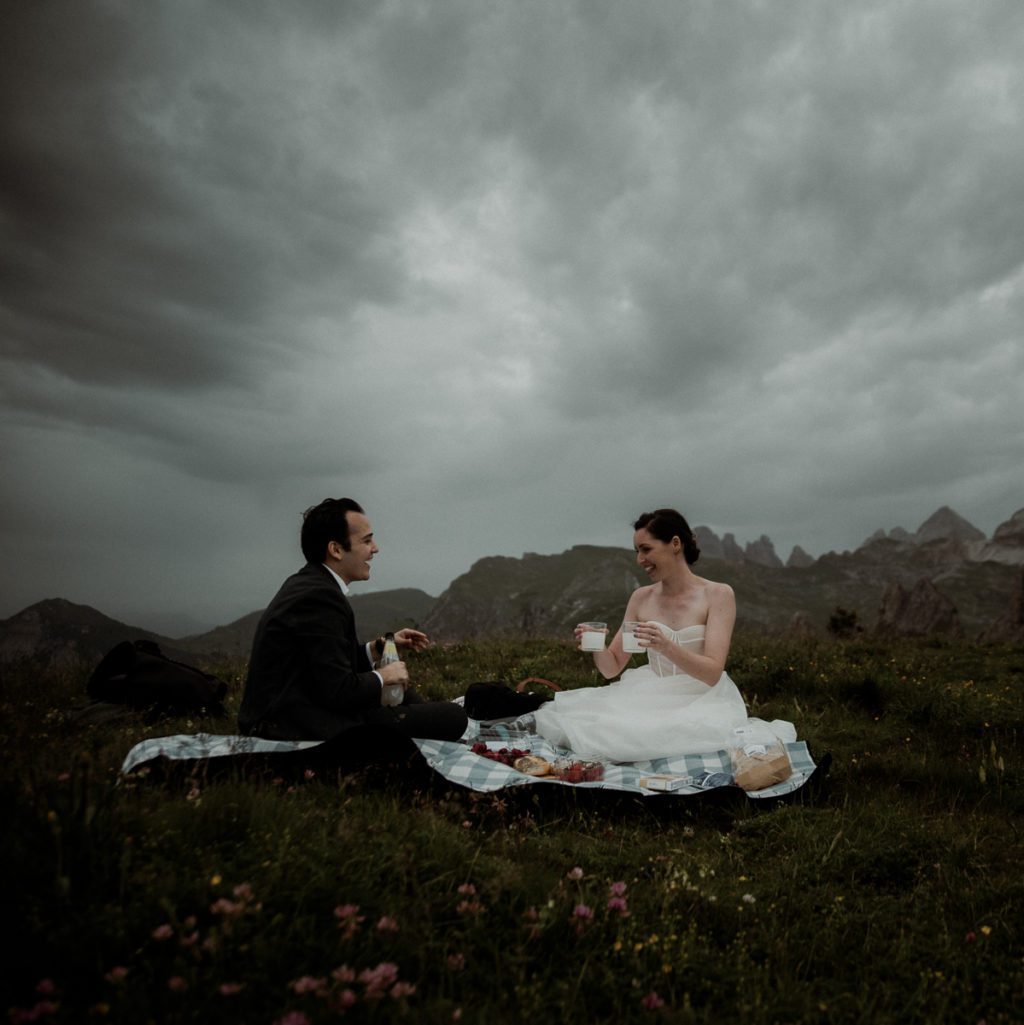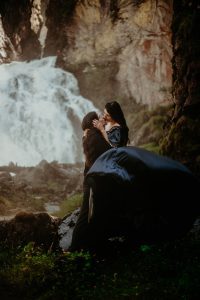 Let's Talk
Epic

Things Like

Water,

Wind

And A

deep breath.

The most simple things can transform into such an epic experience if you chose to intentionally appreciate them.
Just sit back and imagine that heavy sound of the waterfall, the perfume of wet rocks, the soft mossy grass under your feet and you in the middle of that.
Kissing, not caring, enjoying.
Doesn't it feel right?
You Won't feel like a tourist.
You'll feel like a
premium Guest

having a local friendo.

Travelling can be as exciting as stressful, and there's probably no more awful feel than feeling left alone in a place you don't know.
But what if you had that local friend who's not only your wedding photographer but also helps you navigate your journey to and through the Dolomites?! That one that you can simply ask anything, makes you take part in the local culture and gives you a ride to your perfect spot!
I'm that local friendo who's a mixture of a mom friend that always has water + painkiller and of an adventure buddy who's flexible, spontaneous and enjoys some craziness.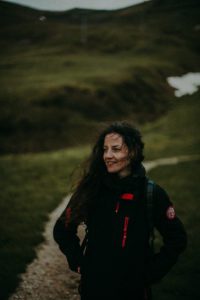 Ellen, moving between us and our guests like a guardian angel, invisible to the eye but always present, has perfectly managed to capture the spontaneity of the gestures, the looks, the various moments of celebration, stopping them in images that we never tire of looking at, even weeks after that beautiful date.
Our wedding album is the result of a job done with great seriousness, passion and professionalism, in which we never felt treated like "buyers of a service", but as protagonists to be accompanied with discretion in their fairytale, trying to understand and best interpret their feelings.
Thank you!
Anita & Andrea
Ellen is a really wonderful photographer with a lot of heart and commitment. We felt absolutely comfortable in her presence. The work was really perfect – we got wonderful photos! She gives tips and tricks and really helps you plan the day perfectly.
The photoshoot was great! I'm usually not someone who likes letting take photos of myself. In her presence you forget this though, because you feel super comfortable and she doesn't take those typical posed photos.
Ellen is always there for you, gets back to you immediately and is very flexible! Her work is absolutely professional and we are so, so, so excited about her and so grateful for getting to know her! She's an absolute recommendation! ♡
Bettina & Michael
Let me guess:
You're Searching for a
Hakuna Matata elopement!
Stress already starts when planning your elopement…
You want to get married in a new place, you're maybe not familiar with. Excited you start your search… Where when how. But the more you learn, the more you get overwhelmed.
I get you! That feeling is real.
One of the most important things for you is, that you don't get a headache whilst planning and that you can have a stress free wedding day. No family drama. No problems. No anxiety because you're not familiar with the area (or manual cars that are standard in Italy – geez!).
You only want to enjoy your moments and feel stoked like a kid at Disneyworld.
Simba: "Hakuna Matata?"
Pumbaa: "Yeah! It's our motto!"
Simba: "What's a motto?"
Timon: "Nothing. What's a motto with you?"

Here's How I
take the weight off your shoulders

& where your Stress-Free elopement begins.

Elopement Wedding Package tailored to your wants & needs, completely built from scratch to sustain your own individuality and make your planning easier

First-hand information about the best way for you to get to the Dolomites, how to best travel to your accommodation and other logistical tips, so that you're not losing your time on the road or freak out

The hard work of boiling down and suggest some nice and strategic places to stay for you, in order to save you time and anger for having booked an accommodation that is actually not where you expected

250+ VIP elopement spots in my radar and personal location scouting, to get the best photo locations with some secret-spilling along the way, so that you can have the levels of excitement and chill that you wish for

Tips on how to prepare for your mountain wedding in order to survive any weather and have fun whatever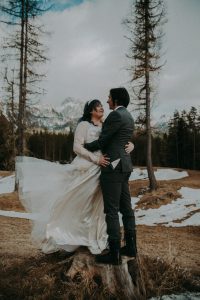 the only thing that matters is you and your moments.

You'll Experience how "Top of the world" feels.
Flexibility, spontaneity and the possibility of celebrating up to multiple days to make your wedding as exciting and chill as you want
A non-judgemental person who perfectly understands why you want to get married differently and takes care of that weird you. With me, you can feel free to be as silly, clumsy and amazeballs as you are
Me as your local friendo chauffeuring you to the locations, everywhere possible in the Dolomites, and South Tyrol – no hidden fees and no stress
Positive energy, moral support, dad jokes, puns and some stardust here' n' there to give you the best possible experience
Online gallery with edited files in high resolution and web, with print and download rights to share and brag with your friendos and family
1. Contact Me!
Let me know about you,
your desires and wishes!
2. Let's Plan!
Let's get excited when planning your day!
I'll help you navigate it!
3. Enjoy!
Enjoy your day as you wanted it to be and be a badass!
How many images will we get?
This is very individual and hard to tell. Usually, you can count with
50 photos per hour of coverage.
When do we get to see our pictures?
You'll get a small preview of your pictures around 10 days after your wedding day;
and the full edited gallery delivered to your inbox,
no later 60 days from your wedding date.
How will the photos be edited?
The photos will be edited in the style you see in the impressions gallery.
I'm going to choose the best look for your wedding. All are natural but very individual.
Are you a wedding planner?
Though I love to help my couples to navigate some struggles related to planning, I'm not a wedding planner.
What differentiates me from an actual wedding planner is, that I cannot book anything for you or think about too many things on that day.
If you want someone that does this, I'll be happy to recommend the best planners here around 😉
We're not even sure about the date! How far in advance should we book?
Better sooner than later!
Even if you don't have an exact date or period you want to get married, I can help you with that.
Couples usually book from 14 to 5 months in advance.
We still don't know how many hours our elopement should be, can you help us?
I'm here for this!
So what I'll be doing after our first call, is making you a proposal with the package I'd suggest you – if you want to change something before booking, you can for sure!
Imagine being so small, embraced by
huge mountains – and with the wind in your hair
tell how much you love each other!