What to wear for your couple shoot in the Dolomites is a question I get asked sometimes. I think that the most important thing is to wear clothes you actually feel comfy wearing. If you're not an elegant dress type of person, then better wear pants and a nice shirt.
Also, if you're just like me and love to wear black all year round, then go for it 😉
I'm going to explain better which colours harmonize better when and where, very often it isn't the perfect hair and makeup that makes you look better in photographs, but also what colours you're wearing.
What if I dress differently than my partner?
Well, you can dress however you want. If you want to harmonize better though, you might try to search at least one colour in common, even if it's just with an accessoire, like a scarf or a rucksack for example. You don't need to shop for a partner look to look great on your couple photoshoot in the Dolomites.
What is evergreen to wear for a photoshoot in the Dolomites?
Colours that are in general never wrong:
Brown and Olive Green are definitely evergreen to wear for a couple photoshoot – because these are earthy colours. You've got brown and olive green all year round and in almost every location.
Clothing that is in general never wrong:
Good shoes! (And probably a beanie+jacket) – the mountains aren't usually the best place to wear high heels or chucks. So better wear some boots for your couple photoshoot in the Dolomites. They're always stylish and give some sense of adventure – I love them!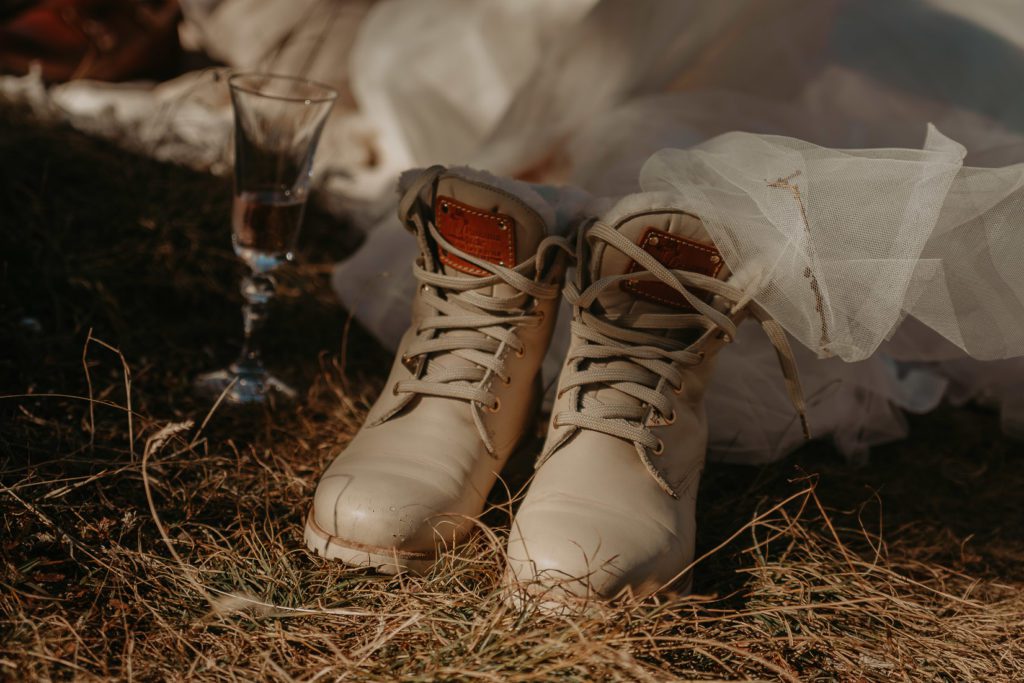 What to wear for your photoshoot in the Dolomites According to Time Of The Year:
Spring
Spring Colours Palette:
Pastel toned colours: Grey, White, Silver, Beige, Brown, Yellow, Rosé, Baby Blue
How Much To Wear / Kind of Clothing To Wear In Spring:
Springtime in the Dolomites begins more or less in May and it can be very tricky. You could have snow until mid-May, or you could have warmer 19-20°C days. Usually, as far as the sun's shining you'll feel at ease in long trousers, a sweater and a light jacket. On moody days or as soon as the sun has set, you'll definitely need a beanie and a warmer jacket.
Summer
Summer Colours Palette:
Pastel or earthy colours: Baby Blue, Green, White, Yellow, Brown, Pink or Red (red's cool because it's the complementary colour of green and it looks incredible if you're in the middle of the meadows)
How Much To Wear / Kind of Clothing To Wear In Summer:
Summer in the Dolomites is quite warm, but usually not warmer than 28-30°C. Usually, the difference between day and night temperatures are quite big. For sunset sessions, I highly recommend long trousers and a light jacket for later. The rule of thumb is always to take long trousers and a jacket with you if you decide to stay after sunset to have your couple photoshoot.
During the day you can wear short pants and a t-shirt. (but remember sunscreen please). Otherwise, you'll feel at ease in long trousers and a t-shirt as well.
Fall
Autumn or Fall Colours Palette:
Dark or earthy colours: Black, Purple, Orange, Blue, Yellow, Brown, Bordeaux
How Much To Wear / Kind of Clothing To Wear In Autumn or Fall:
Autumn in the Dolomites has two poles. A bit like Spring too. Usually, the days are wonderful and pleasantly warm in October. But if the weather turns bad or the sun simply decides to hide for some minutes, it gets freaking cold.
Autumn's the season where you go out in the morning as it was winter, you take off all your clothes over midday and start freezing again at 16 pm. So better take a warm jacket and a beanie with you!
Winter
Winter Colours Palette:
Pastel toned colours or dark earthy tones for contrast: Baby Blue, Rosé, Grey, Silver or Red, Green, Brown
How Much To Wear / Kind of Clothing To Wear In WInter:
Winter in the Dolomites is freaking cold! No matter if you're sensitive or not, you better always wear a warm jacket! Also, beanies and gloves are important. The hands are usually the first part of the body that starts freezing (probably together with the nose and feet afterwards).
How to dress According to Locations:
Mountains: Pastel toned colours: Grey, Beige
Meadows: Darker earthy tones: Olive Green, Bordeaux, Brown
Forests: Earthy tones, can be dark or also Bright: Yellow, Red, Bordeaux, Olive Green, Brown, Beige

What to wear According to you:
My friend, this is the most important thing!
There aren't really rules – I wrote this blog post to let you know that there's a secret sauce to make photographs look pretty perfect by working with colours. But real life isn't Instagram. The most secret sauce is always to feel pretty and at ease with who you are and what you love to wear!
And if you (just like me) wear black all year, then go for it, no matter the location and no matter the season.
If you're used to wearing pink skirts with your green hair and yellow shirt, then please do so!
Please feel free to wear whatever the f you want <3 The most important thing is that you feel at ease. The same goes for makeup. If you don't wear any the whole year, feel free not to wear it for your photoshoot.
Be authentic <3
My favourite palette all year round it kinda this 😂😂
Are you searching for someone who takes you to places in the Dolomites and photographs you?
Pin it for later!