We all know about those cheesy engagement pictures: posed, unnatural – outdated.
While having engagement photographs in the after the photoshoot can be really sweet and lovely, there's a thing that often gets missed out on the fun and the experience that can be created with an engagement photoshoot in the Dolomites.
That's why I changed the approach to classical engagement sessions in the Dolomites.
Def Not The Classical Engagement Photoshoot You're Fearing
If they think about an engagement session, many people think about being photographed for 2 hours straight, with the lenses up their noses AND getting ordered to pose here and there. Well, that sounds like a lot of stress and so much discomfort.
If you're deciding to come to Italy from whatever part of the world to celebrate yourselves with an engagement session in the Dolomites, you probably want something sweet and special. Something that FEELS GOOD!
That's what I love to do for my clients: A feel-good and tailored-to-you experience. I'm encouraging every couple to be as they are. Whatever that means. Without being with my lenses up your nose and without giving you orders all the time. BIG NOPE. Instead, I love to accompany you in a non-intrusive way and help you to get into easy peasy vibes.
Dynamic and candid engagement sessions in the Dolomites, instead of a posed and steady photoshoot
Candid engagement photoshoots in the Dolomites are just pure magic and so much fun. I definitely don't like the cheesy pics where you look straight into the camera. Instead, I love that "casual" touch. The heavy laughs and, well, some weird faces you do to each other here and there. 😂🤗
If you decide to visit our beautiful country and the most adventurous landscapes, I bet you're lively people, that love to have all the fun captured in a candid way. I love to let you frolic around, instead of forcing you into poses that simply aren't you. Just piggyback your partner, lick their cheeks or bite their nose.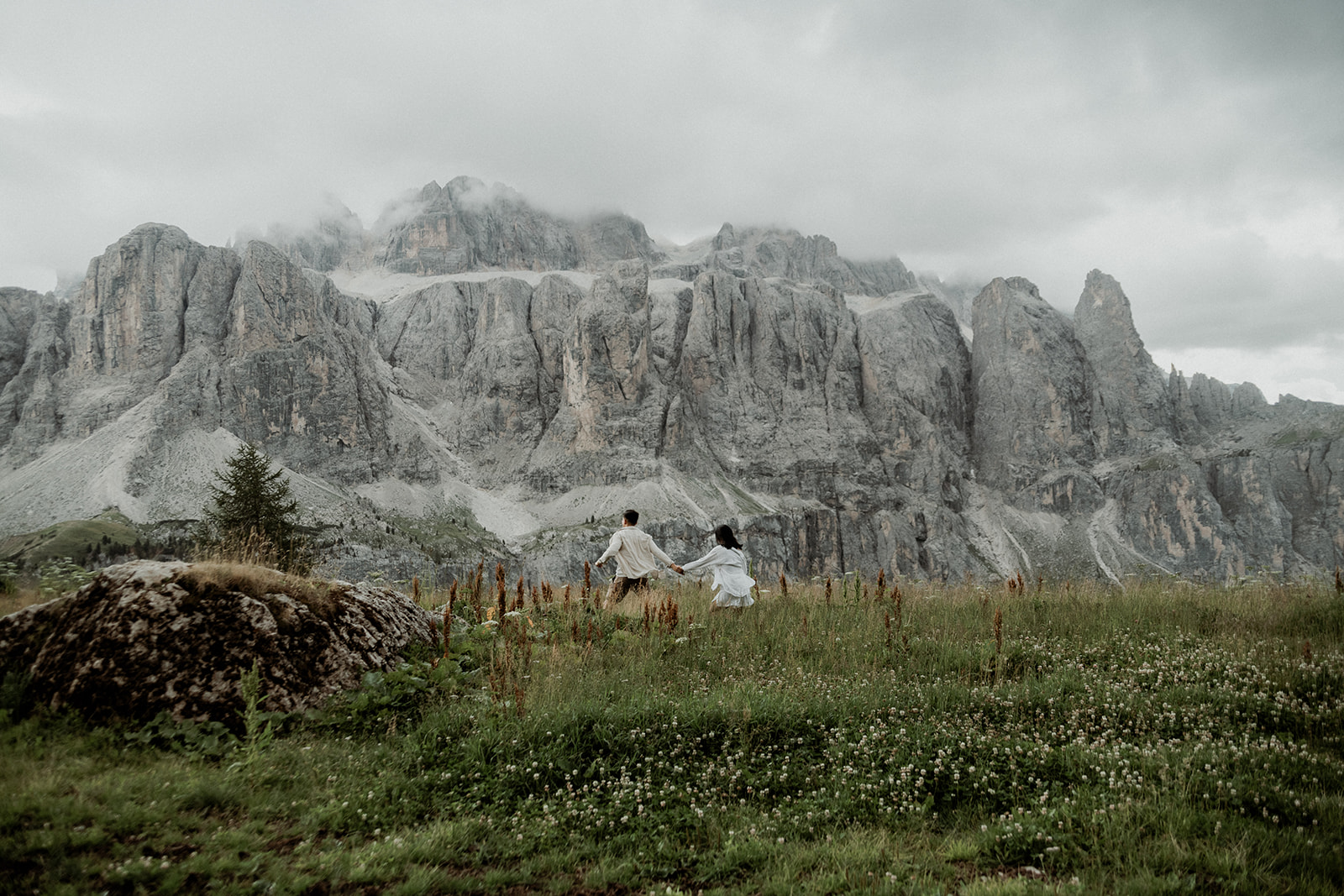 A Cocktail Of Romance, Magic & Silliness
I totally love some more romantic and dramatic pictures too! The breathtaking and sometimes overwhelming landscapes of our Dolomites are uplifting and inspire more dramatic, romantic and magical pictures. But even here, you can totally be a bit playful and do weird stuff as well – you don't need to kiss dramatically, but you can if you want to 😜
It's so important for couples to not need to act. You're either models or actors. You're celebrating with an engagement photoshoot in the Dolomites, so enjoy your special occasion as you are, mix that thing up get groovy and silly and feel magical.
The Bit Of Adventure During Your Dolomites Engagement Photoshoot
There are a bunch of things you can implement into your photoshoot, instead of going to one location, taking photographs, and then getting back again.
You can have a small and easy hike, for example, or book a sunset engagement session in the Dolomites. What could make your special occasion even more lit?
The Tailored To You Experience
On top of all, there's the experience you want to add to all this. If you're just staying a few days in the Dolomites, you don't want to miss out on the opportunity to explore all the areas. So why not combine a trip or another special experience with the photoshoot? This might be just a sweet picnic in a really lovely spot, but also a helicopter tour.
I love to give you more inputs about what to do, that you might not even thought about, and make a magical one-off-package just for you!
I really love to listen to your wants, needs and also interests. As a local, I have a lot of activities and experiences I can recall and serve them to you as best as possible, in order for you to have A LOT of fun and an engagement photoshoot completely tailored to you!