Couple Photographer Dolomites
For Cuddles That Turn
Into An
Epic Adventure
A COUPLE PHOTOSHOOT
IN THE DOLOMITES SHOULD BE


AN EXPERIENCE FOR YOU
(Yes, even if you just want photos "because carrots")
It's definitely more than just about great photos in the dramatic Dolomites' landscapes – because hey: "If we do it, we do it properly!"
Let me guess: clichés are not for you, you are spontaneous people and love to explore and enjoy new places.
Famous spots where everyone else is going's just not wat you want – you want to enjoy a place for yourself and have a great time together, in as much privacy as possible.
And what if the photos were just the icing on the cake at the end of the day?
With me, you can almost forget you're being photographed! That is how I can capture that true kooky sweet thing you are!
Awkward stiff vibes are completely banned over here. There are just good vibes, romping around and cuddling a little (not too much).
The only bad thing about working with me are my jokes – but if you like knock-knock, dry jokes, you could look forward to all I've got for you. 😜
Outdoors is where you Feel
Alive & Connected
Here's where you can easily peasily romp around and be carefree cool Kids.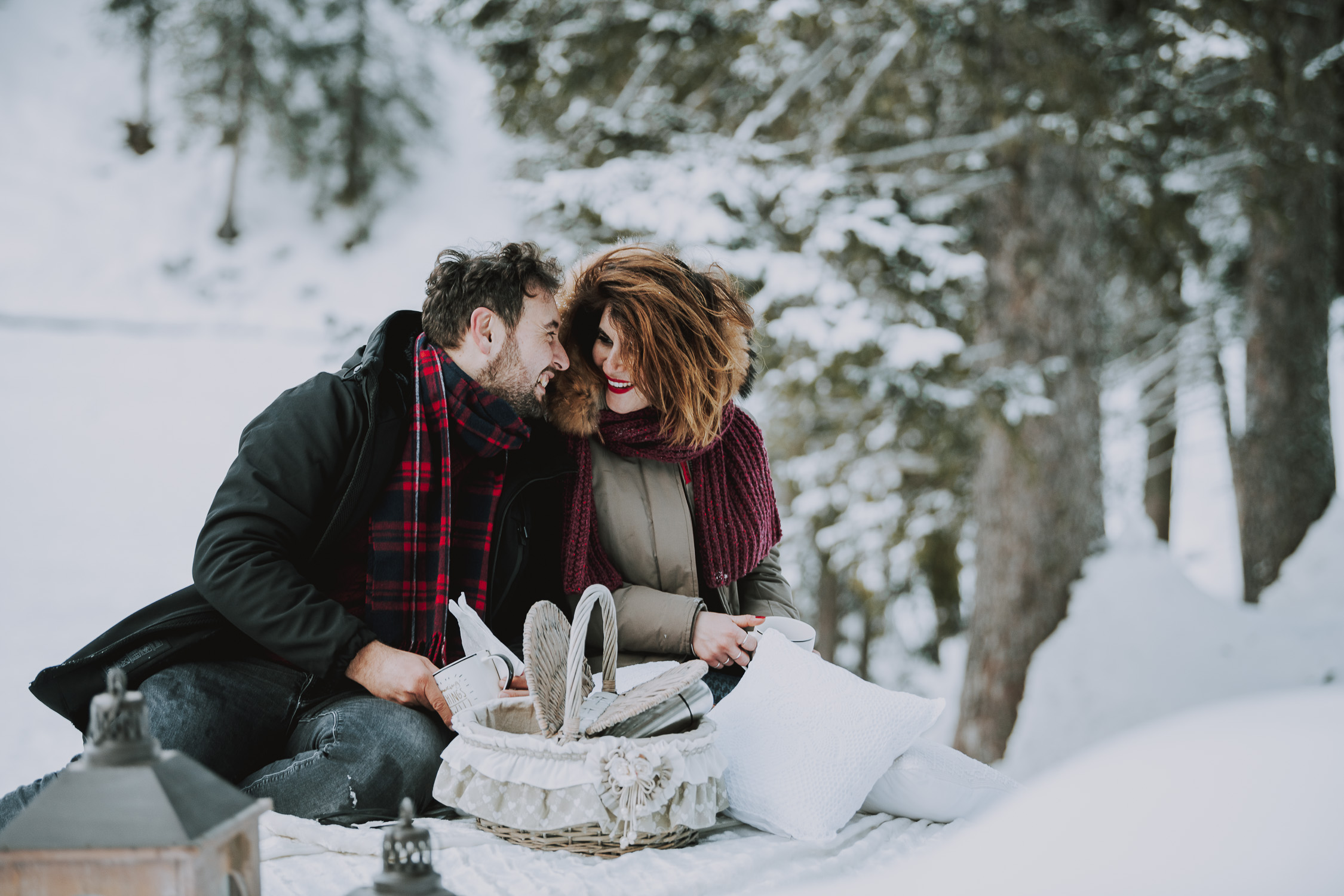 An adventurous couple shooting consists of everything that is exciting and entertaining for you.
From an epic hike or ski day in the Dolomites, to an early morning sunrise, to a chill session with a picnic in the woods. Can't do it, doesn't exist!
With cream on top, please!
Ellen was absolutely amazing to work with in planning my proposal to my girlfriend! My plans were very tentative when I first contacted Ellen, but she listened to my ideas and used her experience and expertise to give constructive feedback and suggestions regarding the specifics of my proposal.
Thanks to her, we came up with an excellent plan and the moment could not have gone more perfectly.
I was unable to give Ellen a hard date for the proposal because of the pandemic and uncertain travel plans, but she was understanding and supportive every step of the way.
After the proposal, Ellen was incredibly quick with editing our photos and sent us photos the same day to share with our friends and family. And not too long after, she had our entire set of photos ready to send to us.
The photos themselves look amazing and go beyond what I could have ever expected! I am so happy we have these beautiful photos that capture such a special moment. I would highly recommend Ellen as a photographer. She was very friendly, professional, and receptive to all my ideas and her photos are amazing!
Eugene & Taeler
Ellen is a very talented photographer, she has a special eye, she knows how to put people totally at ease, she is very funny!
She conveys the love for what she does, in the shooting phase she is very spontaneous and captures the moment, so there was no stress from endless poses, no fatigue, ideal for the naturalness of a couple.
She has this unique focus on the Location, she really thinks about experiences at 360°. She brought out the best in us!
Not to mention the lightning-fast delivery of the photos, she does everything with enthusiasm. She will make everything even more special for you!
She has definitely spoiled us!
Allegra & Pietro
What Are The Custom Couple Photography Packages Made Of?
Basically, everything you need.
And some shiny unicorn glitter.
The couple shoot packages I create for you are 100% custom made to your wants and needs, which I'm going to discover on the first call!
Upon that, you'll get the magic.
All-Inclusive Couple Photography Package
Coverage, Editing, Gallery!
💖 Couple Photography Hourly Coverage
To make sure you don't lose any details of your day
💖 Some Entertainment & Fun
So you feel at ease, be as silly and amazeballs as you are, and make good memories
💖 Exploring Secluded Spots With You
That way you'll feel like a low-key VIP, and have your privacy
💖 Signature Style Editing
To ensure a high-end look for your memories, that I personally create for you
💖 Sneak Peek Preview | Color Photographs – on the same day or immediate days after
Because you probably will be excited and want to share it with the world
💖 Full Gallery | Color + Black & White Photographs – from 10 to max. 50 days
To ensure you're not having to impatiently wait for all of your photographs
💖 Min. 80 Photographs Per Hour Of Coverage
Because you're awesome, and you should get a generous amount of amazingness
💖 Online Gallery With Downloadable Pictures In HD & WEB Resolution
So you can share it with your friendos & family and download them easily
Real Big-hearted Love & Care – for You & your Couple Shooting Experience
Tailored Support & Personal Local Joker
💖 Local Knowledge
To make sure you're not going to places everyone else is, and avoid tourist traps
💖 Flexibility In Case Of Unstable Weather & Last Minute Changes
Because we're talking about mountains, and sometimes they're unpredictable. Often, just a few adjustments to the schedule suffice to make your experience great. You deserve 'em
💖 Unlimited Videocall Consults and Fast Email, WhatsApp or Chat Support
To make sure you get the care and support you need and sometimes you need fast answers or last-minute changes and cannot wait too long to get an answer
💖 Tailored Advice & Research / Scouting & Care For Your Wants & Needs
To make sure your very personal wants and needs are met when visiting the location you love, and avoid bad choices
💖 Schedule Planning Help
To ensure you're not scheduling too much for your day and get stressed, or miss out on opportunities
💖 Chauffeuring You From Location To Location – where possible & Best Transport Options Suggestions
So you can relax a bit on the road and don't miss out on more sustainable or better transport options to visit locations
…& Some Exclusive Perks, because you're worth it!
Access To VIP-Resources,
Exclusive Calendar Blocking,
Split days & No Other Hidden Fees
💖 Direct Links To: Vendors, Accommodations, Locations & Other Tricks
So you have all the best choices served to save time on doing useless research, and get rid of the total overwhelm
💖 Big Special Spot In My Calendar
In order to ensure you a warm-hearted number of backup days, in case of any unexpected events or inclement weather. Without booking 3 other couples for the same week you're staying in the Dolomites.
💖 Splitting Your Experience in a Multy-Day-Adventure
This way you can see even more places, save some time or simply enjoy more time adventuring and exploring, without feeling exhausted at the end of the day
💖 No Extras Such As: My Food, My Travel Costs, My Skipass / Mountainpass
So you can exclusively look after you
Couple Sessions:
SECRET PROPOSALS & Short ENGAGEMENT SESSIONS
Do you plan to surprise your partner with a secret wedding proposal or would you love to have an engagement photoshoot in the Dolomites?
There are endless possibilities to organize dream wedding proposals and couple photos in the Dolomites!
I'll help you with all my best advice for your engagement shoot, acting as your secret agent and friendo!
Contact me and make your dreams come true!
Read the guide about how to propose in the Dolomites!
Average investment is
€2080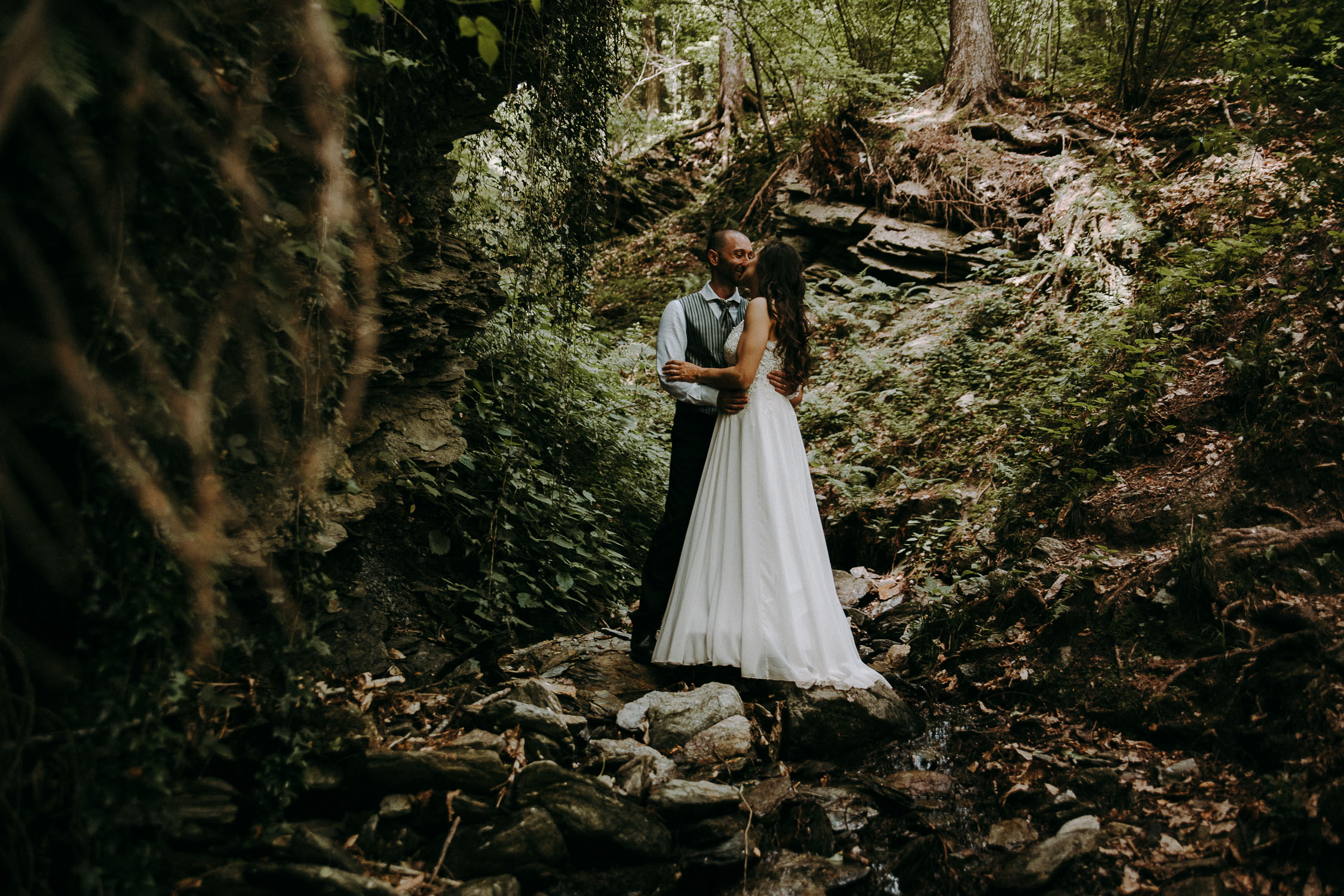 Small Celebrations Just For you:
Short Ceremonies, Vow Renewals & AFTER WEDDINGS
The vows renewal – an event full of emotions and worthy of being captured in photographs!

Put on your wedding clothes and tell each other once again how much you love one another, trash the dress after you got married, or simply take time for the two of you after your wedding day and take amazeballs couple photographs in epic landscapes!
Escape into nature and enjoy your love together!
Average investment is
€2540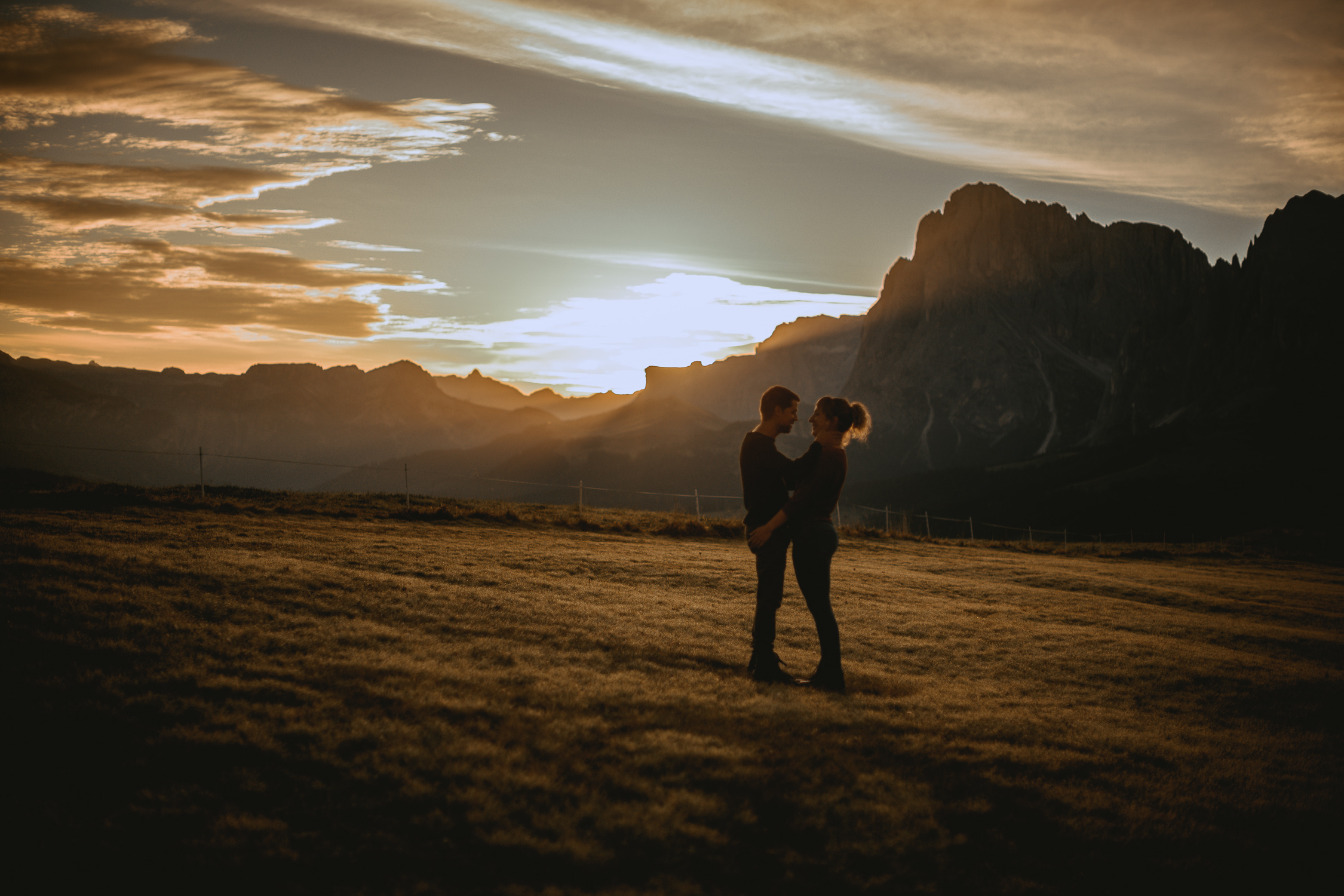 For Your Couple Photoshoot in the Dolomites To be

all disco & no panic!
All The Magic!
✨An experience made with all the love to make sure you can live your freaking dream
✨Tons of dreamy couple photoshoot locations to totally fall in love with, so you don't have to make ALL the research yourselves
✨See and explore spankin' new spots that will make you feel embraced by the world
Fun & Good Memories!
🎉Including but not limited to dad jokes, puns, iron knees to ensure some real laughter
🎉A$$ grabbin' and frolicking are more than welcome to make you feel at ease
🎉Freedom to be clumsy, messy and amazeballs anyway to get those "SO YOU" shots
No problemo!
🌈Your local friend & photographer giving you those real talks & no fluff
🌈Someone just as weird as you, so you can be your true self
🌈Mess-dealing pro to solve any trouble and ensure a smooth, upbeat adventure day
A COUPLE PHOTOSHOOT,
HOW TO ORGANISE IT

?

Are you eager to know how a couple photoshoot in the mountains can work? Here are the answers:
ContatCT ME
To clarify your ideas, we first need to find out what you love and what possibilities exist for you. All for free and without commitment!
RESERVE YOUR Photoshoot
After you have your first ideas and the date of your adventure, you can book your couple photoshoot.
Let's Plan your activities & PLan B Together
The possibilities are almost endless and it is good to organize the activities to do during your Dolomites couple photoshoot + plan B with some good advice.
Whether it's a picnic, a romantic boat trip or a quiet walk.
Let yourself be inspired.
HAVE TONS OF FUN
Make your couple photoshoot in the Dolomites a memorable and epic adventure, just the way you want it!
F.A.Q.s about Couple Photoshoots
How many images will we get?
This is very individual and hard to tell. Usually, you can count with
80 photos per hour of coverage.
​
When do we get to see our pictures?
You'll get a small preview of your pictures around 10 days after your photoshooting day;
and the full edited gallery delivered to your inbox,
no later 50 days from your shooting date.
How will the photos be edited?
The photos will be edited in the style you see in the impressions gallery.
I'm going to choose the best look for your photoshoot. All are natural but very individual.
​
How does the online gallery work?
Exactly as the impression gallery, but with an individual password.
You will receive a link and password to your gallery. From there you can download the web resolution files for your phone or for social media posts. The high-resolution files come to you via a download link in your inbox.
​
How do things work with the photobook?
As soon as the pictures are edited, I will design your personal photobook on request.
As a photobook lover and photographer, I know what pictures are going to look gorgeous in your photobook, which ones are important for telling your story
and how many pages it should have.
Before I print it: you will see the preview of the final work instead.
If there are any changes you want to do: I will do that, giving you the best advice,
for amazing results. No additional fees occur for these steps since I want you to fully love it.
​
Can I choose the colours of the photobook?
Hell yes!
I will give you 2-3 recommendations and you can choose what photographs and writings/fonts
you like the most for your personal photobook.
​
Do you design and print wedding-invitation-cards?
I do this too for a small fee, just ask me to do it for you!
Are you missing an answer?
Drop me a mail and tell me what I can do for you!