To propose to your partner isn't that easy, especially if you want to do something particular. But as a photographer, I'll be more than happy to cheerlead you through the wedding proposal planning and give you some advice and inputs.
Here, you can find some to-go tips in order not to make any mistakes for your perfect wedding proposal photoshoot in the Dolomites.
Tell The Photographer About your plans to propose during the photoshoot
This is the first rule to make the proposal as smooth as possible!
If I know that you want to propose in the Dolomites during the photoshoot, I can help you with the planning and be your ally when it comes to location, ideas, excuses and other plans you might have.
If you decide to do it on your own, it's harder for me to catch the moment. This could lead to less nice photographs.
Tell your partner about the photoshoot
This point is really crucial. Whilst many people think it's less suspicious to NOT tell the partner about the photoshoot, it can totally backfire.
Whether you tell your partner the day of the shoot or right after having taken a decision is up to you. Don't make it too important, keep it sweet and natural. (more in the second point)
If you tell your partner that you have planned a photoshoot together during your stay in the Dolomites, he/she can have the chance to dress nice or put on some lipstick.
Also, it builds trust with the photographer (me), and he/she won't be distracted by a foreigner taking pictures whilst they're proposing.
Besides this, I can be more prepared for the moment and the photographs are generally better since I can put you in the best light to make it all perfect.
I fear my partner will be too suspicious if I say I have booked a couple photoshoot in the Dolomites
This is a true issue – it can have a lot of reasons indeed. If you're too sure your partner is going to suspect a proposal during a photoshoot, I highly recommend having a closer look at your situation first in order to be on the safe side. I have some aces up my sleeves to keep everything as low-key as possible. Contact me and tell me more about your situation before planning the proposal photoshoot!
Bring Your Own Spice To The Table
Is it a special outfit, a letter or a picnic? There's nothing more unique than you. I bet you have something that is very "inside".
Make sure to bring your own special thing to the proposal – it often doesn't have to be a big thing like a surprise helicopter ride, it could also be a meaningful flower or another special activity to do. There are so many ways you can add a piece of your personality. It can be a prank if both of you are quirky personalities or something really romantic like a small setup with flowers and your partner's favourite cake in the location you want to propose. I can help you with something little, although, if you're planning anything more sophisticated like one day full of surprises, then you might think about hiring a wedding planner for you to take care of the logistics.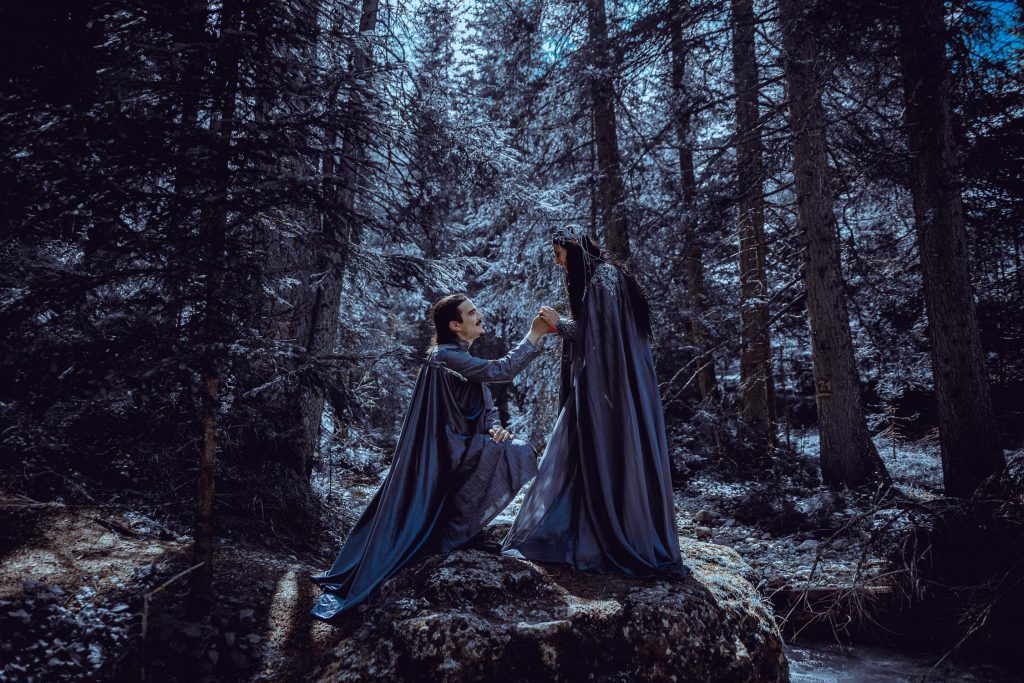 How to not sound suspicious when telling your partner about the photoshoot for the secret Wedding proposal you planned
Keep it casual. A good way not to make your partner suspect you're going to have a proposal photoshoot, is to really act chill and usual. Don't do as it was super important, you just had a nice idea, since you would love to have some pics of you on vacay for example.
If you like to hike, you could tell your partner you organized a small hike with a photographer you got in touch with on social media, for example.
Partners often make their own research too if they get excited or suspicious, so don't make it up too much and keep it all as natural as possible.
Have a secret word or phrase with your photographer for the Wedding proposal itself
As a master of pranks, I have loads of ideas on how to make your partner stay exactly as you want it. Believe me, I've said the most creative things to keep partners frozen. They just trust me and won't move. 😉
This is something I always LOVE to discuss and it is where the magic happens for your proposal photoshoot.
Avoid a proposal photoshoot where your partner is expecting it
Generally, stay away from too well-known locations. Partners are smart and will always be hoping for the moment to happen at one of those spots. Having a photographer with you won't make it less suspicious I guess.
Only choose well-known locations just if you're 100% sure your partner isn't expecting a proposal. Partners smell from miles away when you're having plans.
Eugene has chosen Lago di Braies for the proposal, but he was 10000% sure Taeler wasn't expecting it at all. We've been planning the proposal for a few months. Also, read the next point about locations.

Romantic Locations to propose in the Dolomites
The Dolomites have so many beautiful places to propose to your partner. As I wrote in the last point, better stay away from famous spots to propose. They aren't as romantic as you think they are unless you visit them at the right time. Famous locations in the Dolomites are pretty crowded, especially in the summer months (July & August) and you better avoid them if you want your privacy.
As a local wedding & couple photographer, I know a lot of alternative epic spots you can have an amazing proposal photoshoot with your partner in the Dolomites. So if you're thinking about a proposal at Lago di Braies, Seceda, Alpe di Siusi or Tre Cime di Lavaredo, I might help you find other locations for a proposal in the Dolomites that are as breathtaking, just contact me and I'll spill the beans.
Here's something that could interest you too about romantic locations to propose in the Dolomites:

Successful Proposals in their words…

Thanks to her, we came up with an excellent plan and the moment could not have gone more perfectly.
llen was absolutely amazing to work with in planning my proposal to my girlfriend! My plans were very tentative when I first contacted Ellen, but she listened to my ideas and used her experience and expertise to give constructive feedback and suggestions regarding the specifics of my proposal.
I was unable to give Ellen a hard date for the proposal because of the pandemic and uncertain travel plans, but she was understanding and supportive every step of the way.
After the proposal, Ellen was incredibly quick with editing our photos and sent us photos the same day to share with our friends and family. And not too long after, she had our entire set of photos ready to send to us.
The photos themselves look amazing and go beyond what I could have ever expected! I am so happy we have these beautiful photos that capture such a special moment. I would highly recommend Ellen as a photographer. She was very friendly, professional, and receptive to all my ideas and her photos are amazing!
– Eugene
wanted to propose to my girlfriend in South Tyrol. However, she would have noticed immediately if I had booked a photo shoot. While looking for a wedding photographer in South Tyrol, I found out about Ellen. Through preliminary talks via video call (which worked without any problems) we came up with a wonderful plan. Ellen knows many beautiful places in South Tyrol! Ellen was always there with lots of creative ideas and full of euphoria!
Briefly about our creative story: Ellen approcached us as a tourist at a lake and asked if we could take a quick photo of her. Of course, this was all agreed; Ellen has shown her arguably unknown talent in acting. A very convincing performance! My girlfriend didn't notice anything at the time. When I took photos of Ellen, she offered to take a few pictures of us too. I knew by a code word when to ask the decisive question; and the surprise was completely successful! She was completely blown away and accordingly said YES.
The unposed images from that moment turned out to be wonderful. Ellen is also a wonder of improvisation. We had previously looked for two possible spots for the application. My better half ran ahead like a draft horse and Ellen had to follow us very quickly and look for a new spot, this one was perfect! In terms of flexibility, I can only say positive things: It was planned to do it the day before, but the weather was very unstable. We postponed it for free until a day later – definitely not obvious of course!
We got to know each other at a picnic afterwards, and Ellen is passionate about what she does – you can feel that every minute! The photo shoot that followed was really great! They are very beautiful photos. It's relaxed at all times and Ellen had great ideas. Unfortunately, the distance between Hamburg and South Tyrol is too far – otherwise we would have booked her as a wedding photographer straight away! Thank you for an unforgettable day! We will always remember it!
– Kevin
llen is an incredible person and photographer. Ellen was our photographer for my surprise engagement proposal at Piz Boe Alpine Lounge in the Dolomites of Italy. I got engaged in late December 2021 and she helped me start my planning journey in September. Not only was Ellen crucial to planning all the components of the photography process but she helped me plan the engagement in many ways—she helped me find a list of venues that aligned with my vision, she helped strategize the secrecy of the big moment, and she served as a guide for our trip to the Italian Alps.
The planning. I believe Ellen & I video chatted about 3-4 times throughout the planning. I am from Chicago and the time difference is 6 hours but her automated scheduling system worked perfectly for both of us. She took time to get to know both my interests and my Finance's interests. She carefully tailored suggestions based on these conversations and after each meeting, she sent notes about our discussions to ensure that everything was well interpreted. (She speaks perfect English, but it was important to me that nothing was missed in translation).
Furthermore, as the Dolomites are enormous and it could easily become 1hr drive to anywhere, she helped me find the perfect setting for the proposal just 5 minutes from our hotel at Piz Boe. To a foreigner amid all of the pandemic regulations, figuring out the logistics to park, locate the box office, get a ski lift pass, and find the correct lift can be a challenge in itself. With the power of Google Streets, Ellen practically walked me through every step of the process and told me how to time everything to the minute. There's a ton more she helped me with but this should be enough for this portion 🙂
…Ellen is a professional through-and-through.
The Big Day. Ellen had the brilliant idea of sharing location so that we both knew of each other's whereabouts without having to message. She arrived at the location early and had enough time to setup and adjust her equipment as needed. During the big moment, she was asked to take photos with my phone and this prompted her to be ready for the cue-words leading to the proposal. Ellen took a number of photos throughout the big moment and then we continued on with the lunch plan at Piz Boe. During lunch, she took photos at the very beginning and a few towards the end—Ellen was very cognizant about giving us privacy and time to celebrate the engagement and this was extremely appreciated. Afterwards, Ellen graciously decided to take additional photos of us in the surrounding area. The mountainous landscape was breathtaking and she took the time to ensure every angle was covered.
The Photos. Ellen knew it was important for us to share these moments with our family and friends back home as soon as possible. We expected to have a preview of some photos a few days after, but she amazingly delivered a preview of dozens of photos the same evening! These selected gems were beyond amazing and such a great gesture. She finished the remaining photos a few days after. THE PHOTOS ARE TRULY INCREDIBLE!!! We just finished looking at the full album and loved the photos so much! It's truly challenging to articulate the beauty of the Dolomites without being there in person, but she made everything come to life. And best of all, she gave us amazing memories of the proposal experience that we will cherish for a lifetime. There's so much more to say, but I think this should clear you of any doubts- book Ellen. 1 million stars
– Javier
PIN IT FOR LATER!