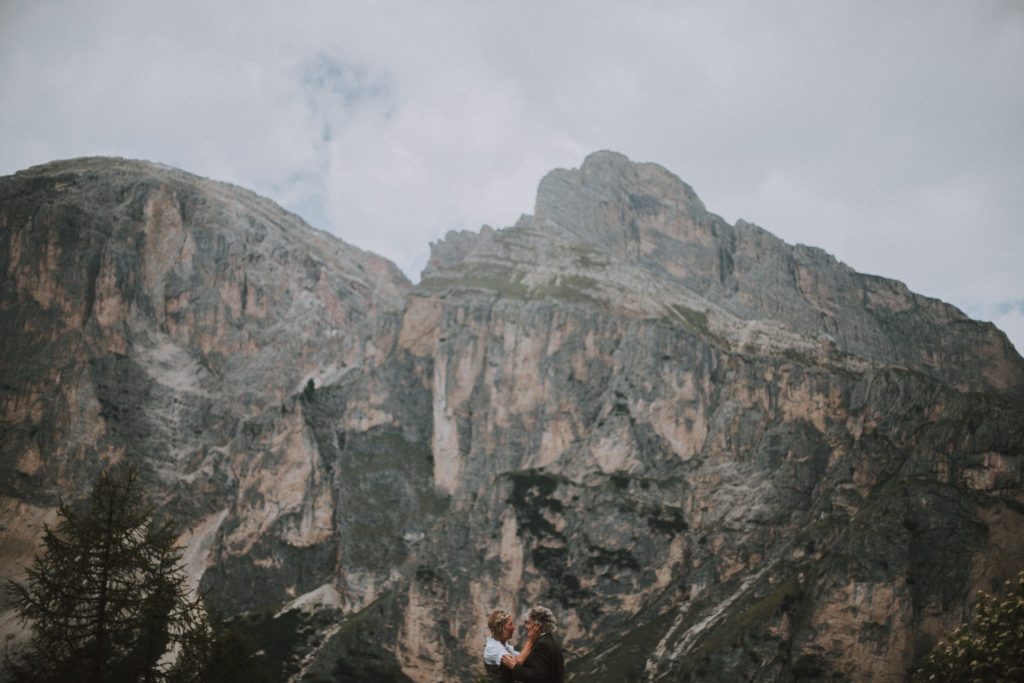 Best Places To Get Married Just The Two Of Us
To elope outdoors is one of the most romantic things ever to do!As an elopement photographer born and living in the Italian Dolomites, I'm a huge fan of pretty places to elope outdoors, especially in the mountains – Personally, I think that the Dolomites are one of the best places to elope in the world!
It's so hard to choose the Top Elopement Destinations because it's plenty of beautiful places to elope in Italy, but I'll introduce you to some elope locations that are all very different from each other.
In this blog post, I'm going to show you some of the prettiest places to elope in Italy, specifically in Northeast Italy.If you're coming from a country outside the EU and want to legally get married in Italy, you can look up thelegal requirements you need to elope to Italy!
I'm going to

give you names here

, but that's

just the tip of the iceberg

!
Keep this in mind:

The probably best locations to elope don't have a name and aren't easy to discover on the internet. That's where my VIP help comes in and where the magic happens!

I'm living in the Dolomites since my birth, and I went literally all my childhood up in the mountains. I've put together all the local knowledge over the last few years, in order to be able to give you the best possible local's tips and to avoid tourists mistakes!
But First! Let's Have a Look At The Location Search Triangle!
If you have never been to the Dolomites, it's quite easy that you have fallen in love with Seceda, Lago di Braies, Alpe di Siusi or Tre Cime di Lavaredo! I know you! 😉
These are all pretty places to elope and to visit during your stay in the Dolomites. That's why they became real Instagram Hotspots with 7k daily visitors during busy season! WOW! So let's have a quick "Location Search Triangle".
Unfortunately, you will see that it's impossible to have 100% amazing views, privacy and easy access at once – but I surely can help you to find the best locations that fit your levels of comfort with all of them.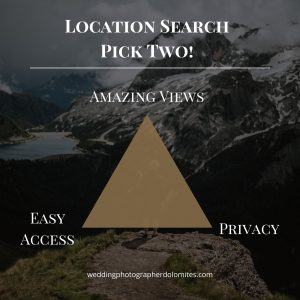 Vallunga
Vallunga is situated in the beautiful Val Gardena. The walk through this Valley is super easy and the views on the Stevia Mount is spectacular. If you like to keep your hike a bit more easy peasy, you can walk back where you came from.
If you want to be more active, you can hike all around the mountains as well – this hike requires good conditions because it gets more difficult in the end and it's about 5h of hiking.

Amazing Views: ♥
Easy Access: ♥♥♥
Privacy:♥♥
Lagazuoi
Is a super easy to reach elopement location in the Italian Dolomites! You can either walk up the 1h 30min pathway, or go up with the cable car.
Up here, you have only mountains and rocks with stunning panoramic views. This is the place to elope if you love mountains and want to be embraced by them when getting married "just the two of us"!
Phtographs:A Tale Of Two Lovers
Amazing Views: ♥♥♥
Easy Access: ♥♥♥
Privacy: ♥
Passo delle Erbe
Is also situated in the Val Badia and has one of the most spectacular views and mountain meadows in my eyes and is so one of the prettiest places to elope in the Dolomites.It's super easy to reach as well, in about 15 minutes of walk.
Amazing Views: ♥♥
Easy Access: ♥♥♥
Privacy: ♥♥
Lago di Carezza
Is a rather well-known lake in the Dolomites and is located in Val D'Ega, which is a beautiful valley to elope in Italy. This lake is very easy to reach, though it could get a bit crowded in July and August.
Amazing Views: ♥♥
Easy Access: ♥♥♥
Privacy: ♥
Cascate di Riva
I had to show you one of the so many AMAZING waterfalls we have in the Dolomites because I love them! I think that they're so dramatic and Cascate di Riva are in the Valle Aurina. There are more waterfalls and also other less-known lakes to visit.
Anyway, these are my favourites, because you can walk through the forests to get to them. There are 3 to see in about 2h of easy peasy walk! Each one is breathtaking. That's why I think it's one of the top elopement locations to elope outdoors. Especially if you would love to have a forest elopement ceremony!
Amazing Views: ♥
Easy Access: ♥♥♥
Privacy: ♥♥
VIP Elope Locations
I think the above-mentioned elope locations are some of the most beautiful places to elope to Italy, BUT! There are also less-known and more secluded locations to elope!
Be aware that not each season is suitable to visit each of these places!
For clients that book me, I have 100+ VIP suggestions for locations to elope and tips on when to get married where. Some of the prettiest places to elope are scouted already and some are to be scouted, which I'll do just for you!
There is no size fits all, I want to find the most beautiful places to elope in the world for you!
Contact Me For VIP Elope Locations!
Pin It For Later!