Let's talk about somehting I'm super passionate about: Picnics!
Picnics are something I suggest to my couples all the time – it's a good excuse to enjoy food outdoors and do something you don't do everyday. Whilst someone can think that picnics are just shabby sandwiches and soggy food, there are are also cool DIY food combos and high end alternatives!
Some couples really want a very simple picnic, others wish to be pampered by having someone bringing and setting up the whole elopement picnic with table and decorations for them.
Here are some clever tips for your elopement picnic in the Dolomites!
Watch out for how long you have to walk to get to the picnic spot.
If you need to walk more than 30 minutes, make sure the walk isn't at least that hard. A 30 minutes walk in the mountains, isn't the same as in a city or flat land. And please don't underestimate this, haha.
Carrying with you all the picnic stuff and maybe wearing (or also carrying) a wedding dress isn't always that easy.
Not take too much with you if you want to hike
As already mentioned in the previous point: if you have to hike, take as few things as possible with you and keep your picnic backpack as lightweight as possible.
Pack your food as environment friendly as possible
Try to avoid plastic or environment unfriendly wrappings. I think that jars, Tupperware, (thermo) flasks are a better alternative to one-way plastic bottles or polythene film.
Leave no trace and take the picnic waste with you
Please don't leave trash in our beautiful nature. Take everything back home with you and respect the environment, we need it. You can take an extra trash bag with you, or reuse one of the "Tupperwares" as bins.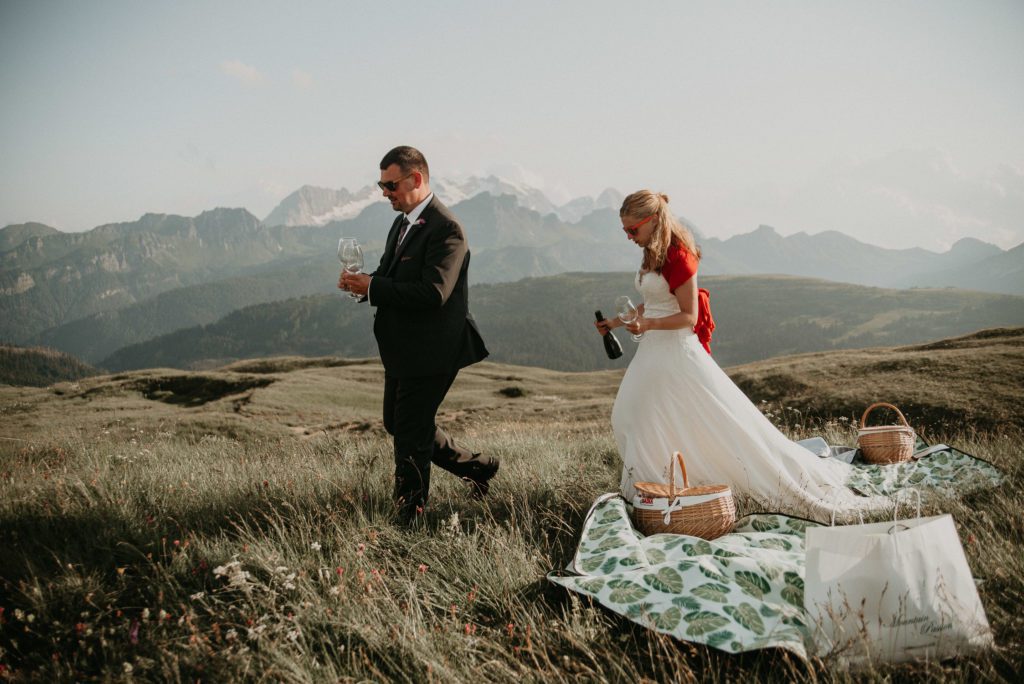 Picnic essentials list
Thermo insulated picnic blanket

Prosecco, beer or wine for a toast

Insulated Wine or Beer tote

Wine glasses

Corkscrew or bottle opener

Wine stopper (just in case you don't want to get too drunk)

A knife and cutlery (if needed)

A bag for trash

Water

An inflatable cushion – it saves you space in the backpack

Coolbox for dessert

A surface that turns into a table

Napkins & wet wipes against sticky fingers

Sunglasses and sunscreen
Extras for elopement wedding picnics in fall and winter
Extra blanket

Tea, coffee or mulled wine to warm up

Hands & feet warmer

Cookies (hell yes!)
What to renounce to
Remember that you need to travel… And that I can help out.
It's a bit tricky to come from far away and have a picnic because if you're just staying at a hotel where you don't have a kitchen, you'll need to get a bit more creative. Also, some picnic essentials require extra space in your luggage.
That's why being a local, I can totally offer to help you by preparing something, or simply borrowing what's missing. Just have a chat with me and tell me what you cannot take with you.
Mountain Huts in Alta Badia Offer Picnic Baskets
This is definitely a stress-less picnic! Some mountain huts in Alta Badia offer the "Picnic Sön Mun" which in our ladin language means "Picnic in the mountains". It's a real 3-course take-away menu to enjoy in the middle of nature.There's the basket, the blanket, cutlery and food included. Beverages are extra. But you could definitely buy the prosecco as well, as they can store them in the fridge. Cristina & Matteo did this at Rifugio Pralongià. Click below to discover their adventure!
Hotels Offer Picnic Baskets to take away too
Lisa & Fabian had their elopement wedding picnic taken away from their hotel. Kolfuschgerhof made an amazeballs gluten-free picnic with salty and sweet things! There was rosé prosecco and tea too to warm up. Whilst Jlenia gave them the blankets and made the logistical arrangement. It was awesome!
How to make your elopement wedding picnic really elegant and carefree
If you want a fancier picnic, I highly recommend hiring someone to make your picnic unforgettable!
The best thing about hiring someone is that you don't have to think about anything and you probably get some decorations as well – it simply looks great and you'll feel more pampered. Want a deluxe picnic experience? You can hire them:
Beyond Luxury Travel or Jlenia Costner can make your picnic fantasies come true.
Are you planning an elopement wedding in the Dolomites or a picnic with your boo and would like to get photographed?
Pin It For Later!