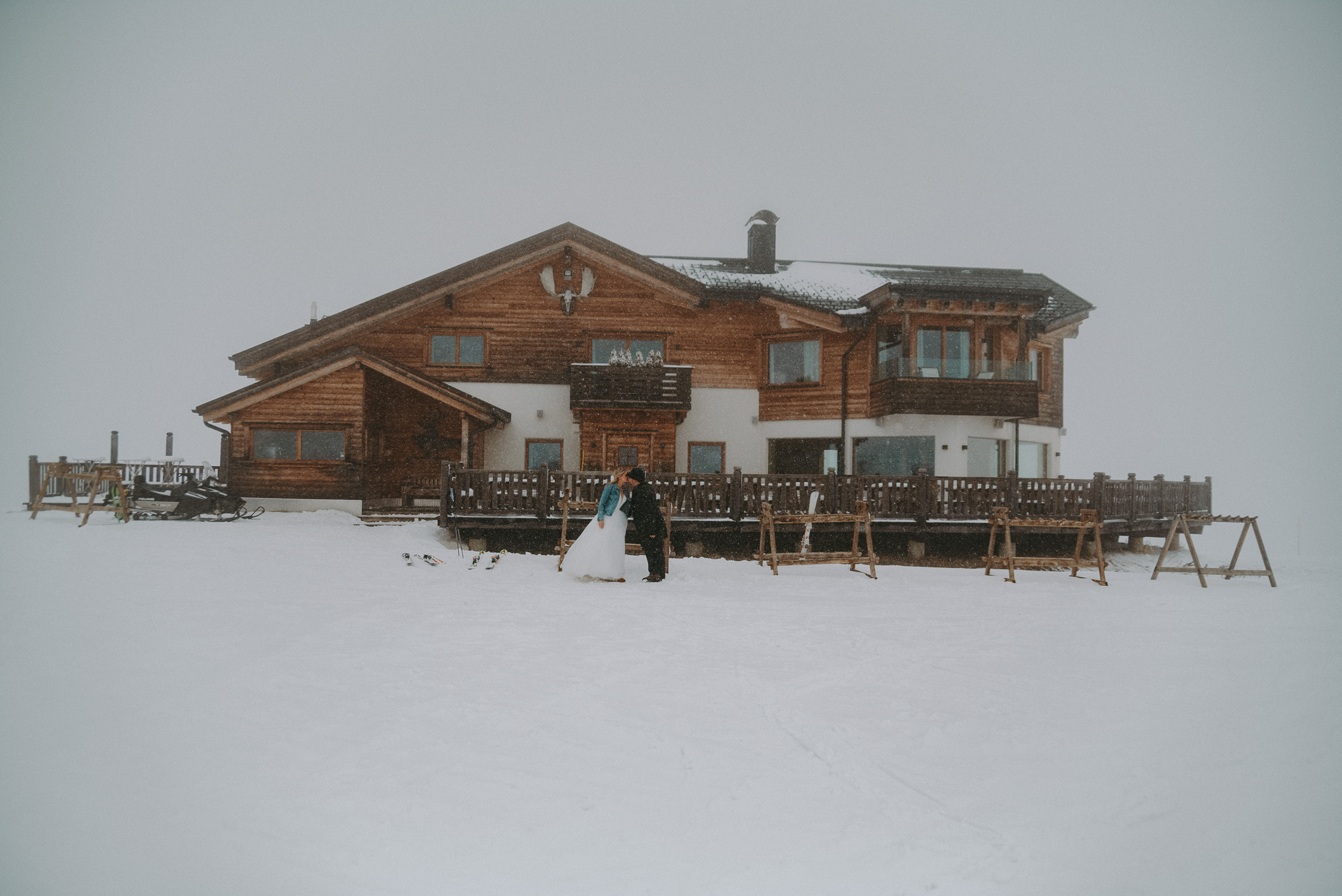 Sonja & Chris are coming to the Dolomites for their winter holidays since ages. The Alta Badia ski resort is their happy place to rest and also to have fun on the slopes. That's why they decided that celebrating a ski wedding here would have been the best choice for them.
They are a very minimalistic couple, that doesn't want too elegant or too many typical wedding elements. So they didn't want something too complicated. Their biggest wish was in fact to have a really intimate ski resort winter wedding and actually go skiing on their wedding day. There were only a few friends who celebrated their ski wedding with, and that was more than enough for Sonja & Chris.
The highlight of their ski resort winter wedding was definitely having the overnight stay at Rifugio Cherz! This hut offers really lovely rooms, so you can enjoy all the amazing landscapes before the skiers or hikers come and also when everyone else has left!
A ski resort wedding is a literally cool way to elope in the mountain region of the Dolomites. But of course, there are a few things to keep in mind if you're looking for a wedding on skis – like the weather!
Unfortunately, Sonja & Chris have caught a snowy wedding day, and they couldn't have the ski slope wedding they were dreaming of, as outside there was only white fog and snowflakes to see. That's why they held the ceremony inside the hut and just had some fun frolicking around the hut in the snow storm for a few minutes.
That's why we scheduled another day to fulfill their dream of a ski elopement! 3 days after, the weather was better, and they put their skis and wedding attires on. We went to another location in order to take photos while they skied.
Here are some Warm tips for your ski resort wedding:
Make sure you have some backup days for your ski elopement, just in case the weather should be bad, or freezing

Schedule your wedding on skis during low season periods

Choose a month date that offers more daylight if it's important to you to have loads of time to enjoy your ski wedding

Book at least one overnight stay at a mountain hut, in order to enjoy magical sunsets or sunrises during your ski resort wedding

Be sure to have proper wedding attires and dresses that offer you enough possibilities to move and stay warm underneath – a wedding on skis is different than normal weddings
Related Reads About Ski Resort Winter Weddings: