A wedding without guests might just sound weird to some people.
But what if it's just the only idea for others?
A wedding without guests is reduced to the most important things for the couple. Without big theatres and without family drama. (Yes, everyone has an "Aunt Karen" who just knows everything better and is NOT happy with anything… we know!)
At the end of the story, you just want to have a great day, don't you? So, a wedding without guests may be the right thing for you – that way you can just do what YOU feel like doing and not what "Aunt Karen" wants and expects from you.
As an elopement and intimate wedding photographer in the Dolomites, I support couples who do not see themselves in a traditional wedding and who consciously choose the adventure of eloping and getting married without guests and above all without compromise.
Here are a couple of tips on how to plan your wedding without guests!
Don't lose The Focus of why you want A Wedding Without having a wedding
Because it is a wedding with no guests, it does not mean that it is shabby or less important!
You will feel better to be always focused on the reason for your choice.
Are you afraid that your wedding might be less exciting than you anticipated? It's up to you not to get lost in things you don't want and instead focus on the excitement and wedding experience you want to have!
How to tell the family that they are not invited to the wedding?
This depends a lot on the type of relationship you have with your family.
The best thing is probably always to be transparent and honest.
Postcards
For example, you can send postcards and say "We elope to get married far away from the world on * wedding date * – but we will come back and we will love you as before". Or something funny like "We have 3 news: one good and 2 better ones! The good one: We're getting married. The best ones: You don't need to be there and you don't need to send us gifts."
Wedding announcement party
Even having a small party before or after the wedding keeps family or friends from feeling left out.
Maybe by showing the wedding photos you make them participate in some way. So you're not going to offend anyone and you don't need to feel guilty.
Postcards also help to announce your wedding in a cute way.
Videocall
In a pandemic period in time, but perhaps even after, a good idea is certainly to make a video call with the family to announce your wedding and have a drink all together even if far away.
Write a social media post
After announcing your wedding to your family, you can let everyone else know about your wedding with a post on social media. This is not for everyone perhaps, but it is a good idea for those who want to let their friends know too.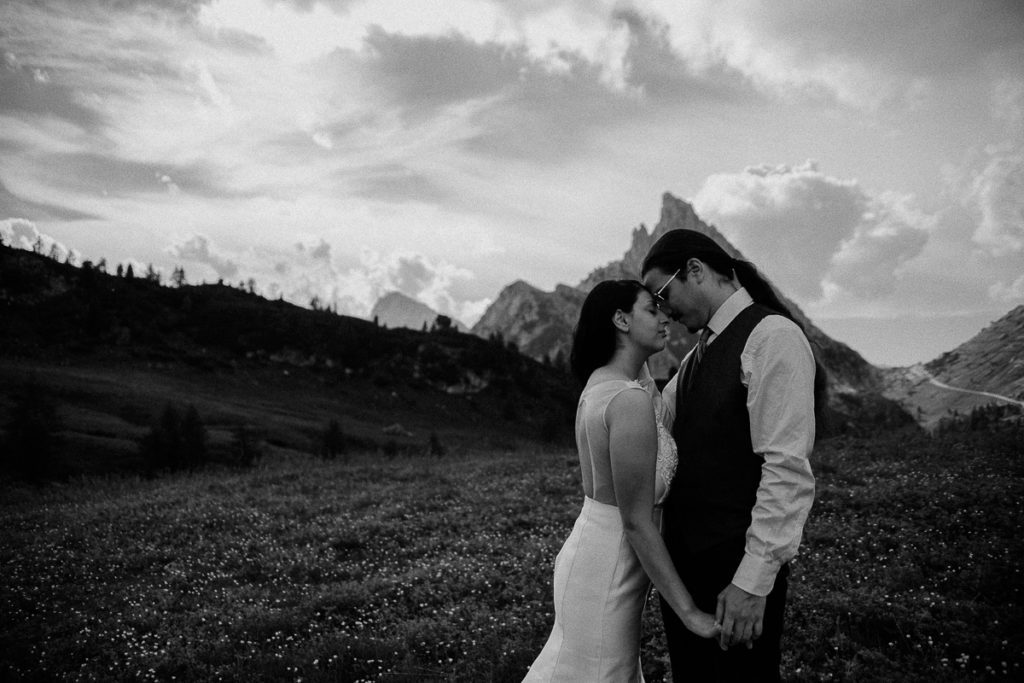 where to get married alone with no guests and How to find beautiful places to get married in the Dolomites
Unlike a traditional wedding, an elopement wedding with no guests allows you to get married where and how you want!
As a sidekick photographer, I have some advice for you on where to get married alone without guests!
First of all, you need to understand what you like: Do you like mountains? Would you rather get married in the woods, near the waterfalls? Do you prefer a long hike or a relaxing walk? Do you want an adventurous type of wedding or do you prefer to roll around in a meadow having a picnic?
The proposals are endless!
Social media and web searches can give a lot of inspiration, but unfortunately, the most "instagrammable" and photogenic locations are also the best known – therefore very crowded. I'm talking about Lake Braies (which has an average of 7000 (!!) visitors every day!) of the Tre Cime Di Lavaredo, Alpe di Siusi, as well as Seceda or Lake Sorapis.
It could also happen that the location is more remote than you imagined or that it does not meet your expectations. Among other things, it is also important to find places that are not privately owned, or if they are privately owned, at least have the consent to access them without further problems.
Get all the inspiration on the internet, but get advice from local people (like me;) as a photographer) or a local wedding planner to find a place to get married in the Dolomites that suits you!
The most beautiful areas to elope in South Tyrol and the Dolomites are probably:
Val Venosta
Merano (and surroundings)
Val Gardena
Val Badia
Val Pusteria
Valle Aurina
I will be happy to help you choose between all the possibilities, also helping you with the various seasons! For a wedding without guests that will thrill you!
You can read other tips on where and when to get married in the Dolomites or see my more specific Top Elopement Destinations To Elope Outdoors!
Choose activities to do during the day
A wedding without guests is a wedding without rules!
And since there are no guests to take care of, you can have a wedding without having a wedding! You can easily do whatever you want. From alpaca trekking to paragliding in the Mountains. There are no limits.
I leave you here the link to the article on my blog, which talks about ideas for celebrating an intimate and simple wedding.
Probably the most important thing will be to choose the time and location of the wedding ceremony, and then organize your activities around it. Let's go straight to the next point
Examples of weddings With No Guests Timelines
Each wedding is unique, and the beauty of elopements is certainly that they can be organized how you prefer.
I've written a full article with everything to consider when planning a stress-free wedding schedule, and examples of the timeline for a wedding with no guests.
Vendors reduced to a minimum? Then better invest well!
Few but good! If a wedding without guests can bring some savings in catering and hotels, I recommend investing your money well! So don't compromise and hire the wedding suppliers of your dreams.
Consider a local wedding planner for a small wedding?
A Dolomites wedding planner can be very helpful, but it's definitely not always needed!
Often, working with local vendors is already eliminating much coordination, planning and stress. Like working with ma as a local elopement photographer in the Dolomites will already put off much pressure in searching for locations, making the timelines and get some secret tips!
You can read the blog post about when to hire a Dolomites wedding planner, and when not.
Book a photographer who specializes in adventurous elopement weddings with no guests
The photos remain forever. And while we may seem similar at first glance, we are all very different.
Since a wedding without no guests is a particular wedding, I highly recommend investing in a photographer who specializes in intimate weddings of this type. Since the photographer will be the vendor you will spend most of your time with, it will be important to have good chemistry. You can get only amazeballs photographs this way.
To find out if I am the person you are looking for, contact me for a free and non-binding video call!
Officiant or ceremony for two?
A good officiant can make your ceremony fun or desperately romantic! Don't just pick one for it's sake.
Unfortunately in Italy, the ceremonies with officiant are only symbolic or religious (they can be legal / official in the places that the municipality approves, for example, a castle).
Or just think of having a ceremony for the two of you, alone in a place you love deeply, with a particular ritual.
Of course, going alone brings more freedom, but just get organized.
Romantic lunch and dinner
Since you are not invited, you can make lunch and dinner even more special moments for you.
For example, you could have a picnic for lunch and a romantic dinner in the evening, in one of the starred restaurants in South Tyrol, book a private chef, or simply eat a pizza in the moonlight, on a meadow. You have the choice!
Wedding Dresses and Attires
Always allow yourselves enough time to look for wedding dresses and attires, but also to receive them.
Especially for bridal ones, which often have to be adjusted in the tailor's shop. Or be prepared to pay for rush service.
Normally, it takes 6 months to have a tailor-made wedding dress.
For other tips, you can read how to choose wedding dresses for your wedding in the mountains.
Frequently Asked Questions about weddings with no guests
Do I need witnesses?
Not necessarily. Only if you want to make it legally official – otherwise you don't need anyone. If you need witnesses, you can also ask in the municipality if there is someone who can do it for you. For more info I suggest you read everything you need to know about a wedding in the Dolomites.
Is it possible to go hiking in our wedding dresses?
The short answer is yes.
However, you must always evaluate what types of clothes you have and how difficult your excursion is.
We want to elope in the Dolomites, but we don't know where to start
Where I can I will gladly help you, above all, I will be happy to advise you as a local photographer in the Dolomites, but also to give you contacts for wedding planners or other suppliers that you might like. Unfortunately, I am not a wedding planner and cannot book anything for you.
In the meantime, you can read other articles about various places to get married.
Drop me an email to take the first step towards your dream wedding. I will be happy to support you wherever I can.
PIN IT FOR LATER