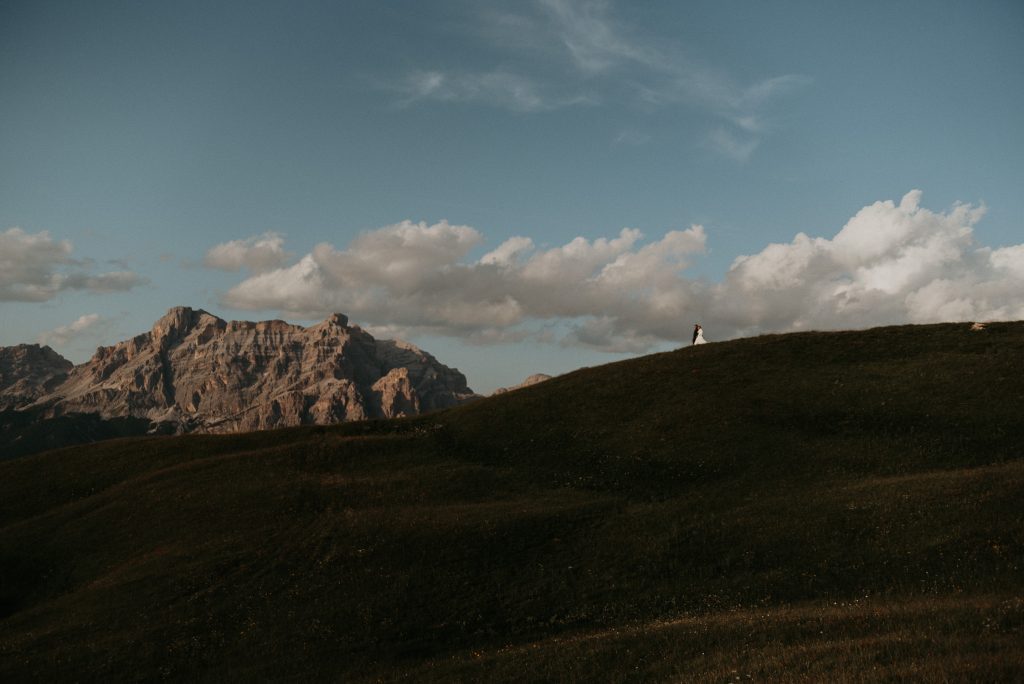 Cristina & Matteo come to Colfosco every year, having fallen in love several years ago in Valle Aurina, they decided that South Tyrol, Colfosco in Alta Badia precisely, would be the perfect place to crown their love in marriage.
The mountains have always been the happy place for them, where they find peace of mind and are able to switch off.
Loving the rustic style of Alta Badia, the warmth of the villagers of Colfosco and the intimacy of the mountains, they shouldn't be able to choose a better hut to celebrate their wedding: The Rifugio Edelweiss in Colfosco.
Rifugio Edelweiss is known for its cuisine, where Gigio (the Chef) serves delicious rustic-modern dishes, with nuances ranging from tartar to canederli.
While Maria Grazia, the owner, thinks about welcoming her guests with her being lively and caring.
Cristina & Matteo absolutely did not want a wedding with many guests, on the contrary, they decided to experience it in intimacy with the family.
"Our wedding must be like a trip to the huts. We don't want all those wedding things. We are not normal".
And so I realized that I was the right person to help them get them to plan something outside of the box, which represented them.
After understanding what they were looking for, I gave them the idea of real trip a few days after the wedding. With a real picnic in the high altitude at Pralongià. Dieter, owner of the Pralongià Hut, came to pick us up (and later Sylvia, his wife brought us down safely again) at Campolongo to take us up and organized the picnic basket with typical South Tyrolean delicacies.
Between a laugh and the other it was a wonderful experience to see the sunset over Alta Badia and enjoy a picnic with all the trimmings at Pralongià, without a soul around.
In Their Words:
"Finding the photographer for your wedding day is not easy … quite the opposite… but when you find the right person with whom you immediately get in tune, well, it's like winning the lottery. Ellen is an incredible person. Nice, cheerful and full of ideas, always available to listen to perplexities and always ready to find a solution to all problems. Silent presence during the wedding and capable of capturing even the smallest detail. The photo book was the culmination of everything, we worked so hard to make it perfect and thanks to her we made it. I really don't think we would have gotten along so well with another phorographer… it was all perfect! Every couple should have Ellen to capture the important moments… She's a warranty!!"
CRISTINA & MATTEO
WOULD YOU LOVE TO HAVE MORE INFO ABOUT THESE LOCATIONS & YOUR WEDDING IN ALTA BADIA?
PIN IT FOR LATER