If you get married in the mountains you will have different needs than people who get married at the sea, in the city or in the countryside. Here are some tips for you on how to choose brides and grooms dresses. For those who are looking for an adventure in the mountains on their wedding day!
You will find some Pinterest boards that will help you better understand what I'm talking about.
Be sure to follow the ones that interest you, so you always have updates!
Of course, feel free to email me if I can be more helpful for you.
Wedding dress ideas for a winter wedding
Winter gives brides a hard time if they want to get married in this season. But I have some tips that will keep you warm, without having to give up on fashion! So, how to choose the dresses for brides and grooms?
The length of the dress – better if long, but watch out!
The length of the dress is crucial to keep you warm and psst … to be able to dress well underneath! Imagine how cold it is if you have to be outdoors at -10°C with a short dress and tights. Meh – perhaps better to avoid colds and bad cystitis.
However, think carefully whether you want the train behind or not. Depending on the activities you plan to do.
For example, if you want to go skiing, perhaps it is better to have a slightly shorter dress without a train if you care about your life.
Keep in mind that with boots you will still be a little taller and the dress will therefore not have the same length as with normal shoes, so there is no need to exaggerate.
The train might get in your way because it really collects a lot of dirt – and in the winter we have plenty of it on the streets!
The neckline and sleeves
Here – absolutely try to avoid dizzying necklines and embrace a dress as closed as possible if you do not want to risk bronchial pneumonia. As sexy as they may be, also avoid wedding backless dresses.
The sleeves, obviously long! And possibly not made of lace! If you really can't do without short sleeves, at least get yourself a nice heavy cardigan that will keep you warm! Wool is always cool! I mean warm.
The perfect fabrics for the winter wedding dress
To choose the right fabric for a wedding in winter, always keep in mind that it will be very cold – if you don't want to ruin your day with freezing and shaking, immediately discard dresses that are too light and transparent. Here is a list of the fabrics that I really like and that are really warm and sturdy!
Duchesse / Cody
Mikado
Velvet
Brocade
Taffeta
Gazar
Satin
Two-piece wedding dresses also called Dual Dress
I highly recommend two-piece dresses! They are so easy to put on and a body keeps everything warm and in place. In addition, it is possible to combine a skirt that you like with a different top or body.
Even a nice cape could do its part! A wedding cape gives a fairytale touch to your wedding.
And for brides who don't want to have the usual skirt or the usual wedding dress, there are also jumpsuits, also called allover! Have you thought of trousers with a skirt to attach and detach? It might be a great idea1
To give shape to all my tips, I thought of making a board on Pinterest, where you can follow all the possible ideas imaginable and have some inspiration to understand what is right for you – find the button under the next point!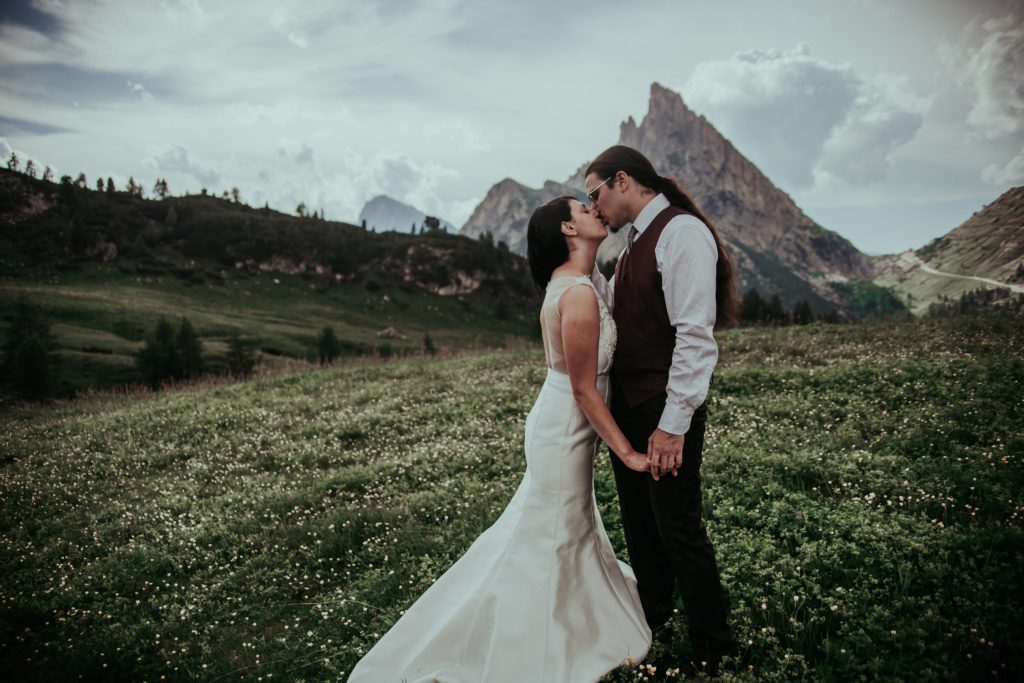 Summer Wedding dresses, for outdoor weddings
On the other hand, summer weddings leave a lot of choice and freedom for the wedding dress. However, I have some advice related to the activities you will do during your wedding. By doing this, you will be able to more easily choose the dress that suits you and your needs. Here is how to choose the dresses for summer brides and grooms.
Think both hot and cold
The mountains are very unpredictable and prevention is better than cure. This means that, even if you get married in August, it is always better to think that snow could come or that temperatures could drop below 20 degrees. It is therefore important to keep in mind that you are not getting married on the beach and that having a nice jacket and an extra layer to put under your dress is always better!
Fabrics suitable for a summer wedding in the mountains
I recommend any type of fabric that is lightweight but doesn't tear too easily. I would say yes to Chiffon or Georgette for example, because they are light but still strong. And a little bit of all the fabrics I mentioned for the winter wedding because they are very robust. Avoid sequins, in general, but especially on the train. A little to respect the environment, but also because if you get stuck in some stones or rock!
Tulle and organza are also very tear-sensitive fabrics – not recommended.
Notice also to fabrics that take folds !! Because if by any chance you have to put the dress in your backpack, your heart will hurt and the dress will be ruined.
Details of the Ceremony dress that make the difference
Pockets: For a handkerchief always close at hand.
The detachable skirt, also known as a dual dress: Similar to the two-piece dress, you can practically change anywhere without undressing and you can go for a hike without taking off everything and put it back on.
Ring to lift the dress: Especially useful for walking
What characteristics must the perfect wedding dress have for an outdoor wedding?
The perfect dress should be light, but sturdy if possible
In winter it has to keep you super warm
Without corset to have a lot of freedom to move
Better if it is not a mermaid-silhouette dress because it limits how much you can move your legs
A little stretch for better walking
Avoid having a train or too long skirt
Have the detachable skirt or be just two pieces
It must be easy to put on and take off
Better if you can still get one layer underneath in cold weather.
Here too I have prepared a board on Pinterest to give you more ideas, both for summer and for winter!
How to choose a groom suit for an adventurous wedding?
I find it very difficult to find interesting ideas for grooms! It seems that the centre is always the bride, but what if there were actually 2 grooms? Or what if a bride wanted a masculine look? Oh well, here are a couple of ideas for a winter groom and masculine bride that will make you want to get married today!
Winter groom tuxedo
Why not move away from the classic black tuxedo and try winter colours such as light blue or a cold grey?
Or even the knitted sweatshirts do a great job, not only keeping you warm but also giving a slightly alternative look.
What will make you or your partner a super hot bae will definitely be the scarf! In short, there is something fancy even for the groom in winter.
summer groom attire
Ahhh white shirt and suspenders! I don't know how else to describe the perfect summer groom. Or why not an unbuttoned white linen shirt? We may not be on the beach, but looking at a man dressed like this, you get hot even at -30 °C. 😀
You could also go for a more classic tuxedo – we have variations. There are also many very stylish and interesting attires! So – I've also collected some ideas for boys or brides looking for a more masculine look and collected them on my Pinterest board here!
Board For Grooms & Masculine Brides
More tips for masculine wedding outfits in the mountains
Pay particular attention to the pants! Keep in mind that they must be super comfortable if you go for a walk and keep you warm if you go skiing!
In the summer, look for fluffier or at least cotton shirts. Cotton will help you stay cooler even if you sweat.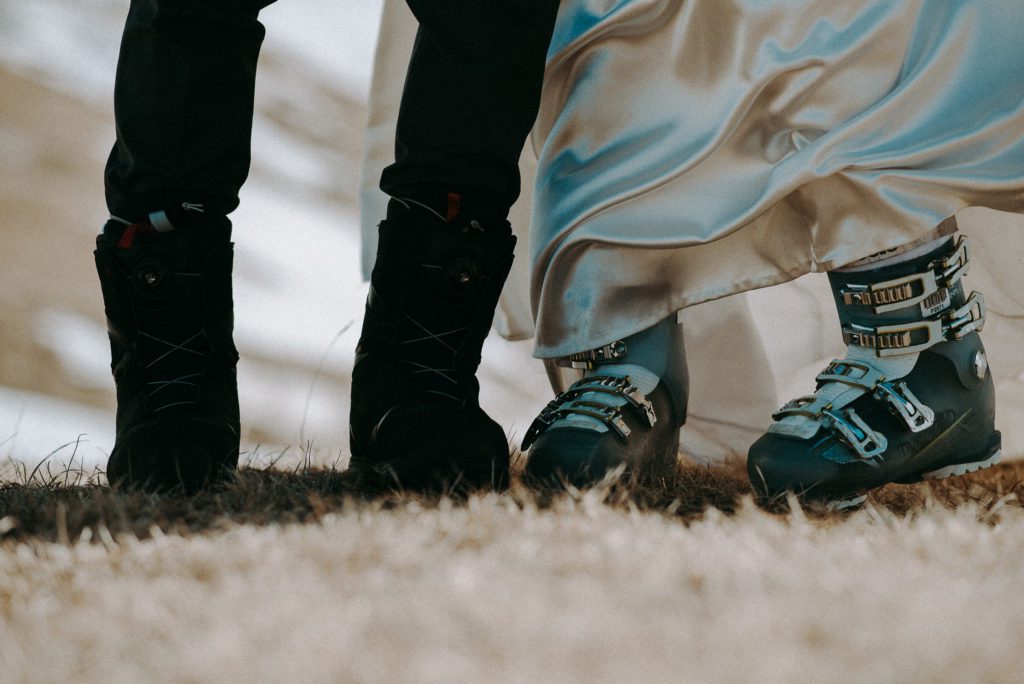 Shoes for an "offroad" Elopement
"Offroad" weddings, aka weds that take place where it's a bit wilder to get to, give the spouses different needs than usual. Certainly heels and shoes with smooth soles should be banned. However, this does not mean that shoes have to be ugly.
It is very important to have safe shoes, perhaps that also hold the ankles well. You will avoid back pain, foot pain and possibly blisters as well.
There are a lot of cool shoes with an unusual style and others a little simpler. Technical mountain shoes are not needed at all costs, but safe, warm and dry shoes are.
Here too you will find a lot of inspiration:
Wedding in the mountains, here's how to dress if you are a guest
Not only are the spouses important, but also some guests, if you have one.
Maybe someone is coming to the mountains for the first time and has no idea what to expect. Here are some tips also for the guests.
Put on comfortable and safe shoes !!! It doesn't matter if they're not the sexiest, but they need to be comfortable and not give you blisters.
Take your warm jacket with you even in summer – yes, because it wouldn't be the first time snow has arrived in August.
For a winter wedding, dress up something that will keep you warm. If I have to say this it is because it is not obvious that everyone does it.
A must-have survival kit for a romantic Elopement in the mountains
Here is a list of the other things that cannot be missing in your suitcases if you decide to have a romantic elopement in the Dolomites:
Sunglasses
Sun protection – yes even in winter! Because you burn your face in winter more than in summer. The bad thing about winter sunburn is that we barely notice it in the evening, and it is very dangerous to burn your face. Arghh!
A heavy jacket or windstopper – no matter if in summer or winter
Scarf and gloves in winter
Waterproof, warm, safe shoes
Mountain backpack
The photographer (possibly me 😉 )
How to choose the photographer for your wedding in the mountains?
If after reading this entire blog post you realized that having beautiful photos is important to you, here I am! I will be happy to accompany you on your adventure and keep you safe!
Why not give us a little non-binding video call and see if I can help you organize the day of your dreams?